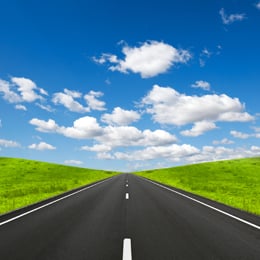 Yesterday, I wrote about the stock market risks that the AT&T/Time Warner merger might be signaling. Each month, I review market risks as suggested by several other key metrics. And over the last year or so, I've been giving a presentation to investors on the causal factors behind a sustained bear market.
Overall, my commentary on the markets has been decidedly risk-centric.
Increasingly, though, what's struck me about these analyses is that, in the end stage of a market cycle, which we are approaching, there's a very real chance of substantial gains—a melt-up before the meltdown, you might say. Not that I'm predicting either, but having (I hope) adequately covered the risk side, it's important to examine the opportunity side as well.
Before dropping, stocks might well outperform
If the market is, as I've been saying, reminiscent of 1998, that tells us two things. Namely:
That trouble may be lurking in a couple of years.
That the market could significantly outperform expectations until then.
Are there any reasons to believe that the second thing might happen? I think there are.
Earnings growth may resume. Let's start with the most fundamental basis of the stock market—earnings. With an earnings recession well under way, there is a real possibility that earnings growth will turn positive this quarter. That should cheer up markets. More, over the next several quarters, earnings growth is expected to increase to the levels of the late 1990s and mid-2000s, both times of significant market returns, as shown in the chart below from Yardeni Research.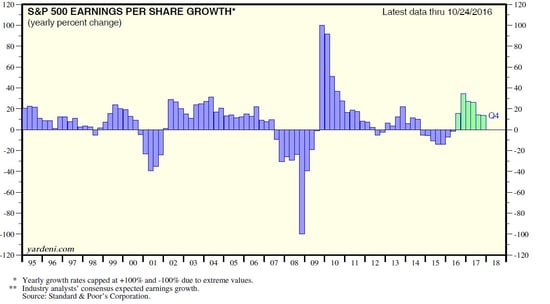 If we get that kind of earnings growth, we can reasonably expect a market response. Will we? Maybe, for a few reasons:
Revenue-per-share growth for the S&P 500 has already turned positive, which has historically led to outsized earnings gains.
Consumer confidence has risen again, along with continued strong hiring and improving wage growth, and business confidence is moving back up as well.
One of the biggest market detractors of late, the energy sector, is poised to start making money again in 2017 (as opposed to losing lots of money). That alone could be a major positive factor and, combined with everything else, could drive earnings growth above even current expectations.
Sentiment could perk up. Beyond earnings growth, improvements in sentiment are also possible. For example, the election has to be holding things back. I am losing sleep over it, for the first time in my life, and I'm certainly not the only one. Once that passes, I will certainly feel more optimistic. Around the world, risks seem to be receding as European growth improves and China continues to deal with its problems.
Indeed, given all of the concerns and risks we face, one of the real surprises is just how resilient the market has been. Even with the recent economic slowdown, the pending election, and all of the new risks reported every day, it's still close to all-time highs. So it doesn't seem like a big stretch to say that if things continue to improve, we might well see the market rise, maybe significantly. This isn't my base case just yet, but I am increasingly considering it.
Here's hoping.