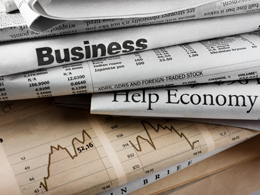 2016 ended with a bang, as the Conference Board's consumer confidence survey once again surprised to the upside. Coming in at 113.7 for December—up from 107.1 and beating expectations of 109—this is the highest level since 2001, suggesting that consumers are increasingly optimistic, despite weak personal income and expense growth.
2017 also started off well. The reports last week were all about business confidence, and the news continued to be positive.
A look at last week's data
The ISM Manufacturing Index rose to 54.7 from 53.2, beating expectations and moving even further into positive territory. Representing a two-year high and the fourth gain in a row, the increase positions the manufacturing and industrial sector for a healthy start to 2017. The recovery is significant, as this was one of the weakest areas in 2016, hit by an increase in the dollar and slow growth.
The ISM Non-Manufacturing Index also beat expectations, remaining at a strong 57.2 against an expected decline to 56.5. Three-quarters of industries expanded, indicating broad-based growth and suggesting continued progress into the new year. Between the two surveys, economic growth is likely to continue to accelerate.
The minutes from the Federal Open Market Committee's last meeting were released on Wednesday. There were two key takeaways:
Uncertainty about the likely actions of the new administration
The Fed's surprisingly strong take on the economy, which confirms much of the good news seen in other stats
Less positive news came from the international trade report, released on Friday. The U.S. trade deficit widened by $2.9 billion to $45.2 billion, the highest level in nine months. This was slightly above expectations but reflects export growth below that of imports, which will act as a drag on economic growth.
Finally, the December jobs report contained somewhat mixed news but was positive overall:
Employment growth came in at 156,000, below expectations of 175,000, but prior months were revised up by 19,000, boosting the year-end number to expected levels.
Overall, other data points were consistent with past months.
The major positive factor was wage growth, which bounced back even more than expected, from a decline of 0.1 percent to a gain of 0.4 percent. This took the year-on-year growth rate up to 2.9 percent, the highest level since mid-2009.
Overall, labor markets continue to tighten, and the employment market is acting as expected at this point in the cycle, which suggests continued growth.
The week ahead
This week's data will be focused on the consumer.
Retail sales numbers for December will be released on Friday. The headline number, which includes autos, is expected to rise by 0.5 percent, up significantly from November's 0.1-percent growth. Core sales, which exclude autos, are also expected to rise by 0.5 percent. This figure is partially inflated by rising gasoline prices, but even accounting for that, sales are expected to increase by 0.4 percent, up from 0.1 percent.
Consumer confidence, as measured by the University of Michigan survey, is also expected to increase, from 98.2 to 98.6. A multiyear high, this would ratify the earlier increase in the Conference Board survey.
Have a great week!