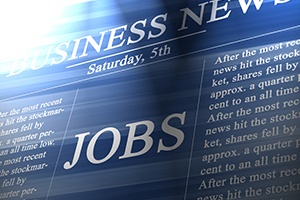 Normally, I don't make predictions about where any individual economic stat will come out. There is enough noise in the system, and enough variance in the data collection process, that any individual report's results can vary enormously—and it still won't mean anything.
One exception to this approach, however, is when you can see something—an event or a trend—that will certainly affect a report. In that case, it makes sense to call that event out ahead of time to help understand what will, very likely, be an outlier number that means less than it seems. In the case of job growth, what we need to be aware of are the potential effects of the General Motors (GM) strike.
Expectations are modest
The jobs report will come out next Friday. Right now, expectations are for underlying job growth in the range of last month, which was 136,000. This result would reflect a slowdown (as you can see in the chart below), and the three-month average shows that slowdown is actually accelerating. But with expectations modest and worries rising, what would happen if job growth came in much lower than expectations?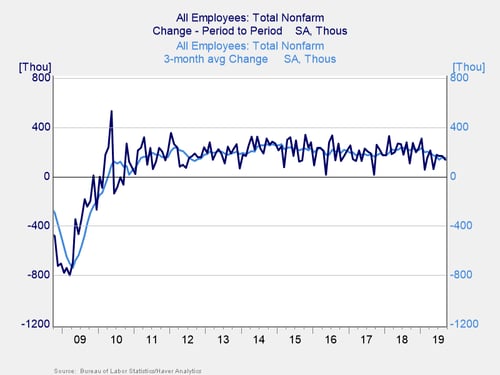 Note that declines happen on a regular basis, again as you can see in the chart above. Some months are just bad, while other months are just good—and usually it doesn't matter. Nevertheless, with the trend slowing and with confidence getting weaker, this slowdown could be one more headwind, even more than usual, to the economy as a whole. This outcome is something that is certainly possible, and something we should pay attention to if we have reason to believe next week's report might be very weak. And we do.
The economic consultancy that Commonwealth uses, Capital Economics, is projecting job growth to be only 25,000 for October. This number would be the lowest level of 2019 and the lowest since September 2017. The difference this time, however, is that the cause of the drop is not so much general economic weakness but a specific situation (i.e., the GM strike), which we can quantify.
Assessing the potential damage
The GM strike includes about 48,000 workers directly, but that will not be the limit of the damage. There could be up to 200,000 additional workers at GM suppliers who will also be affected indirectly, with about 12,000 already having made unemployment claims and others likely to do so in the coming weeks if the strike continues. The last GM strike, in 1998, took payrolls down by 132,000. Since the industry now employs fewer people, the damage is likely to be less. But even so, the effects of this strike would wipe out most of September's job growth. It is easy to see how the strike could take job growth down significantly, even into negative territory. Capital Economics is estimating the hit to be around 80,000, which seems reasonable.
If job growth comes in at last month's level apart from the strike, that would mean a headline number of around 56,000. This result would be consistent with what we saw in February and May of this year. If job growth is still slowing, we might get a lower number. Either way, expect a number well below what we have seen for most of this year.
Not time to panic
Don't be alarmed, however, if we do get that lower number. Most of this damage will be reversed when the strike ends, and we can expect job growth to tick back up. This is a crash we can see coming, but it is one that will be temporary.
And this situation is why we need to look ahead on this economic stat in particular. Normally, we simply can't see the future, and we're kidding ourselves if we try. This time, though, we can see at least the shape of the most likely future.
So, if the jobs number comes in very weak, just remember: it's still not time to panic.