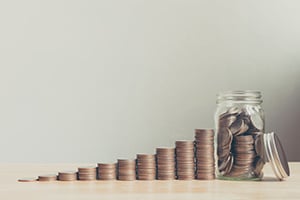 Last week, we looked at what inflation actually is—and where it is coming from. As we noted then, three categories (housing, transportation, and food and beverages) account for three-quarters of all spending. So, if we talk about inflation, this is really what we are talking about. As we also noted, those categories have grown faster since the start of 2021, especially transportation. But none of that tells us what will happen over the next year or so. To determine that, we need to take a closer look.
Housing
Let's start with housing. At 42 percent, it represents the largest share of spending. If we dig a bit deeper, this category consists of two components: rents and what is known as owners' equivalent rents. That is, the cost of housing for renters (which is fairly straightforward) and the calculated cost of housing for owners upon a rental basis (which is much less straightforward). Both of these dropped sharply in 2020, only to spike in 2021 and 2022. Will they keep rising?
The main factor driving price increases here has been high demand and low supply. If we look at the availability of homes and vacancy rates for rentals, it seems clear that the demand to supply is close to all-time high levels, which explains where we are now. But we can also see that the annual inflation rate for this category is around 4.5 percent, well below the overall inflation numbers reported, even with the very tight markets. We can also see that those price increases seem to be topping out, as mortgage rates increase and supplies start to improve. In other words, inflation from this component is likely to stay where it is now or start to decrease a bit over the next year.
Transportation
The same is true for transportation, the second-largest spending and inflation component at about 18 percent, but even more so. This category consists of vehicle costs, fuel, maintenance, and other items (e.g., airline fares and insurance). In this case, transportation inflation has actually been flat from roughly 2008 through 2021, as we discussed in the prior post. We then saw a spike, of course, driven largely by costs of new and used vehicles, but both of those categories have since moved back to flat. This major component of the index is going back to zero or something close—and that will pull down the inflation number overall.
For motor fuel, however, the news is more mixed. While the rate of increase is expected to slow—oil has pulled back a bit after the invasion spike—it will remain expensive. That said, we have the capacity here in the U.S. to produce more oil, and drilling is already up substantially. Here, the supply increases should keep overall increases below what we have seen recently, which should pull inflation back a bit over the next year. This, combined with the pullback in vehicle costs, should keep this inflation component below current levels, although it will remain higher than it has been. Again, while inflation from this component will be high, it should drop over the next year or so.
Food and Beverages
The third component, food and beverages, is one area where inflation is likely to continue. Here, too, the numbers showed very low inflation for most of the past decade only to spike up since 2020. But for this component, the inflation trend is accelerating, not subsiding. This makes sense, as commodity markets have driven up food prices as Russian and Ukraine production will be out of the market for some time.
This is an area where inflation is likely to stay high over the next year. But over time, here too, the U.S. can drive up production, just not that quickly. As the smallest of the three major components, this will be more than offset by the declines in housing and transportation inflation.
The Big Picture
We should see inflation move back down from current highs over the next year. Market surveys suggest inflation is expected to end the year at around 5 percent, which seems reasonable overall, and then moderate further to around 3 percent over the next several years. This is supported by the data, as we have discussed.
So, will inflation remain high? Yes, especially by recent standards. But are we doomed to see prices keep jumping at current rates? That looks much less likely. As always with economics, the real question is not where we are right now, but whether things are getting better or worse. With inflation, we are certainly not in a good place, but things should be better by the end of the year and especially over the next couple of years.