Over the past couple of years, we've seen government spending drop considerably as a percentage of the economy as a whole. But is it set for a comeback?
As the chart below shows, spending is near the lows of the late 1990s and well below the levels of the 1980s and earlier. Even the spike during the financial crisis only brought us back to '80s levels.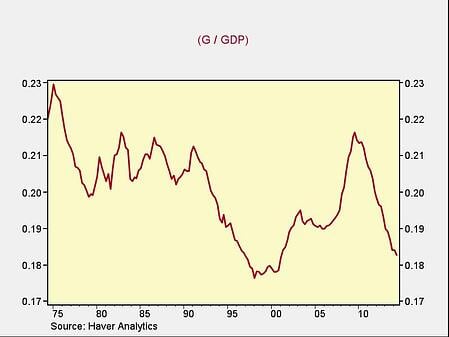 Small wonder that, as government spending has plummeted as a percentage of GDP, its contribution to economic growth has been resoundingly negative—until recently. Now, at least, it's flat.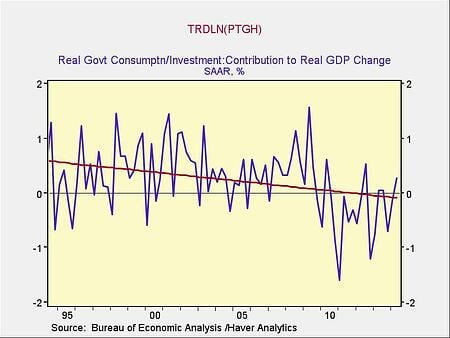 The trend line is down, and we've moved back above trend—and above zero—for only the second or third time in the past five years.
Will government start contributing to growth?
One of my assumptions has been that government wouldn't be a net contributor to economic growth in any significant way, as spending remained constrained and politics remained toxic. It may be time to revisit that idea.
This morning, I listened to a talk by Greg Valliere, one of the best political observers and consultants out there, who made a somewhat startling statement. In speaking with multiple politicians of both parties—and that includes Republicans—he's seen a consistent willingness to spend more, especially on the military and on infrastructure.
If so, this is a big change. You can see the two-decade trend line above, with the past five years being the most negative of the period. Despite all of the very real concern about the deficit (which is under control for the moment) and the debt (which is not), government spending as a percentage of the economy and as a contributor to growth has dropped.
What does history tell us?
Setting aside the politics of the matter, it's clear that, in the past, government has been much larger than it is right now, and government spending has historically been a much bigger contributor to growth. It's certainly possible we could move back in that direction.
The problem, though, is that in the 1970s and particularly the 1980s, the high levels of federal spending were driven by deficits. The economy grew faster than spending did in the 1990s, bringing down government spending as a percentage of the economy as a whole, but spending growth also moderated. We have seen the same behavior over the past 10 years.
If spending does, in fact, rise again, it would mean either a return to higher deficits or an increase in taxes. Higher deficits are probably the more likely option but would be difficult to sustain for any length of time, especially with the coming wave of boomer retirements—which, in any event, will run up the deficit again.
History (and, apparently, current politics) seems to suggest that federal spending will rise—and that, in turn, suggests that taxes will also have to rise back to historical levels. Over time, it's hard to have one without the other.