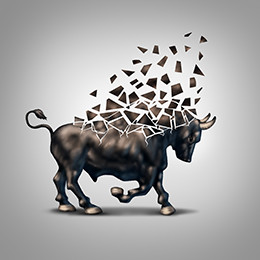 This week, two major banks—the Royal Bank of Scotland and J.P. Morgan—issued some alarming advice for investors: sell your stocks, as the end is nigh. They didn't use those exact terms, but the message was clear enough.
Among the reasons for their grim warnings, the banks cited Chinese volatility, falling oil prices, rising debt, weak corporate loans, and deflation. The world, supposedly, is in a global recession, corporate earnings are dropping, and the only way forward is down.
Real economy actually doing well
To be sure, many of these issues are worrying. Conceivably, the problems could spiral into something pretty bad. There is a real risk—but then again, there always is.
Taking a brighter view of the situation, let's consider the following points:
Although China certainly faces problems, it continues to grow and still has trillions of dollars in reserves.
As I wrote yesterday, the low oil price is due to excess supply, not a collapse in demand, making it an overall positive factor in the real economy.
Corporate finance has areas of serious weakness, but that's well known and priced into markets.
Although deflation may be a risk, it seems contained at the moment.
Finally, the world is not in a global recession. The U.S. and China continue to grow, Europe is recovering, and even Japan is doing better. Signs suggest that the recent slowdown is starting to reverse.
The real economy around the world, and particularly in the U.S., simply isn't as weak as the dramatic forecasts suggest.
Stocks due for a pullback
But even if the real economy is doing well, should we worry about a stock market collapse?
I addressed this question last week in a blog post for Forbes. Briefly, if we look at history, there are four ingredients for a 2008-style collapse: a recession, a commodity price spike, an aggressive rate increase by the Fed, and high valuations. At most, only one of these factors (high valuations) is present. The ingredients just aren't in place for a bear market.
Part of the problem, as I see it, is that the past five years have made normal volatility seem more unusual than it is. Stocks saw a 10-percent decline this year; on average, that happens every year, and we are overdue. The average severe pullback is around 15 percent and happens every five years or so; again, we're due.
Looking at years with major systemic crises—1998 and 2011, say—but without the other ingredients of a bear market, we see declines of around 19 percent. Is the current situation worse than either of those years? I don't think so. For one thing, the U.S. economy is much stronger than it was in 2008, and the international system is far sturdier than it was in 1998.
Stocks may have more room to drop, but is it the end of the world? No.
2016 probably not the next 2008
My question for the Royal Bank of Scotland and J.P. Morgan is whether their money managers are actually doing what the banks have called for. Are the RBS and JPM stock funds going to cash? If the money managers at the banks aren't pulling out, I question whether others should.
What is unusual—and, yes, frightening—about this warning is that it comes from major banks. I actually commend them for making it; the more commentary and analysis we have, the better. But I do think they're probably very wrong. Other analysts, including other major banks, agree with me.
From a fundamental perspective, problems that are known and recognized—and being called out by major banks means these problems are well known—are also typically priced into the market. Historically, when major institutions (like magazines, newspapers, and banks) declare that something has fundamentally changed, it's a sign of a shift in trend.
A good example is the call by a big bank for oil at $200 per barrel, just before prices started to fall. Remember also the declaration of a new economy, in 1999, just before prices began to collapse. And of course, there's the famous "Death of Equities" Businessweek cover from 1979, just before the markets took off again.
Two steps forward, one step back
Although the problems are real, and risks certainly exist, I don't think 2016 is the new 2008. We may well see further market pullbacks, and we're certainly in for more turbulence. Barring some extreme event, though, the signs suggest that we'll continue to slog slowly forward.