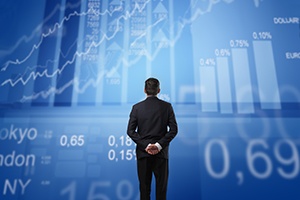 We had another bad day yesterday, with markets pulling back even further. This big decline, for the second day in a row, sent fear levels even higher. Overall, the drop so far has been about 7 percent for the S&P 500. This is a big loss over two days, especially by recent standards.
Given all of the things noted above, however, this decline still remains a normal one—if a quick one. That said, developments yesterday suggest that we have reached a point where we should be paying attention to what the market is telling us. We should not, I hasten to note, panic about it. We should try to figure out what is going on and what it could mean for the future.
A change in trend?
Let's start with the big takeaway from yesterday: the S&P 500 dropped through its 200-day moving average. Now, there is nothing magical about this figure. Historically, however, it has been a pretty good indicator of when trends might be changing. The current level is 2,766. When the market closed yesterday at 2,728, that was a pretty convincing break. That break could well signal a change in trend.
But it does not have to. We saw similar breaks in March and April of this year, only to have the market bounce back to new highs. We saw much deeper breaks in 2016, again to see markets bounce back. Over time, the majority of technical breakdowns, where the market drops below its longer-term trend lines, are false alarms.
The difference between breakdowns that recover and those that collapse largely comes down to fundamentals. Why is the market breaking through its trend line? Is it because the economy and corporate earnings are dropping? Or is it because confidence has dropped? In the first case, we do tend to see market downturns continue. In the second, once confidence recovers, so does the market. So far, this situation looks much more like a confidence breakdown than a fundamental one; therefore, the damage is likely to be limited.
Understand your risk and exposure
Does that mean there is nothing to worry about? Not at all, which is why I say it is time to pay attention. Confidence-driven pullbacks can be painful. Even if they pass relatively quickly, it can still seem like a long time. Regardless of the reason, a pullback hurts. We need to be prepared.
As an investor, you should be paying attention. The most effective way to do so is to understand your risk and your exposure and be sure you are comfortable with it. Treat this turbulence as a wake-up call to look at your portfolio and to talk with your advisor. You should ensure that where you are now—after an almost decade-long bull market—is still where you want to be. We are all 10 years older and, hopefully, have much larger accounts than we did 10 years ago. So, it makes sense to ensure that we know what we have at risk.
Right now, the signs are good that this is just a temporary lapse in confidence and, therefore, likely to be short lived. Economic fundamentals remain sound, company earnings are growing substantially, and all of the conditions that usually support stock market growth remain intact. While we may well get a bigger downturn, these factors should cushion the blow and hasten the recovery. That does not remove the need, however, to review and understand our risks. We will certainly see a longer and steeper downturn at some point, even if it isn't right now.
Pay attention
Don't panic. Don't treat this volatility as a disaster. Do pay attention. Use it as an opportunity to prepare yourself and your portfolio to ride out anything that happens next, good or bad.