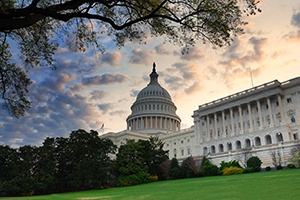 Once more we have news from Washington that suggests the Republicans will not be able to move forward on a core priority—health care reform. You might expect political dysfunction at this level to disrupt the markets, but apparently you would be wrong. The markets are down a bit, but not much, and remain within 1 percent of the all-time high. What's going on here?
The simple answer
I think the answer is as simple as this: markets react to expectations, and as far as Washington goes, expectations are at rock bottom. With the repeated failure of the health care bill, with the public feuds playing out between and within the parties, and with the very likely prospect that nothing of significance will happen on the policy front, markets simply don't expect anything other than what we are getting. The result? No real reaction.
Bad news, good news
The bad news is that we have one significant policy action that simply has to take place, and soon—raising the debt ceiling. The prospect of Congress failing to do so has already started to rattle certain sections of the fixed income market, and you can expect those tremors to get worse as we approach the (appropriately named) drop-dead date. I won't get into the details here, but we will be talking about this quite a bit more over the next couple of months.
Assuming we negotiate the debt ceiling process successfully, the good news is that with expectations so low, there is nowhere to go but up. I have written before about how the end of the health care process is actually an opportunity to move on to something easier and more impactful to the economy and the markets: tax reform. If we get the meaningful prospect of real action on that, it could be a real boost. It could happen.
Right now, markets are reacting to the fundamentals of increasing earnings, as we talked about recently. This is a healthy move, and one that is apt to stay in place, with positive effects as earnings continue to grow. Big picture? Stocks are likely to keep rising with earnings and have limited exposure to politics. As an investor, I am happy with that, even as I am aware that there is more potential on the policy front as well. I am not counting on it, but I am aware of it.
Clear skies ahead?
Looking forward, the thing to watch is the debt ceiling, which is the primary risk. Beyond that, the skies are clear, and we have mostly upside exposure in case Washington starts to perform.
Despite the debt ceiling cloud on the horizon, Washington still has the potential to drive stocks upward. The good news about low expectations is that it would not take a lot to exceed them. When you see a dancing bear, it's not how well it dances, but that it is dancing at all. Let's hope the bear gets up and not only manages not to trip over its own feet but actually starts to waltz.