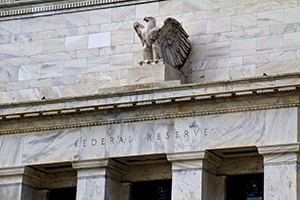 Yesterday, the Fed announced that it was cutting rates one more time, in response to continued economic weakness. That decision was the treat. Markets responded accordingly, with stock markets rising. The trick, however, was in the implication—of the statement and the press conference—that this would be the last cut unless the economy deteriorated further. The implied probability of a December rate cut dropped to 22 percent, the dollar index dropped, and the rate on the 10-year Treasury declined. The Fed giveth and the Fed taketh away.
The sweet spot
Looking at the Fed's decision in the context of yesterday's post, where we concluded that the economy is slowing but still growing, it makes quite a bit of sense. The Fed sees the concerns out there—the trade war, slowing job growth, and uncertainty around the impeachment process and the pending election—and is willing to put in another cut to help cushion the economy from those risks. The Fed also, however, sees the underlying economy as solid (slowing but still growing) and not in need of much, if any, additional stimulus.
This context is the sweet spot take on the Fed's decision yesterday. The good news is that markets seem to have largely bought into it.
The good place?
In addition to Halloween, October is scary for other reasons, particularly in what tends to happen to markets. September and October have historically been tough months. But the end of the year, which we are just entering, has generally been much more positive. By getting through the difficult months, and doing so with a market-endorsed Fed position that things are basically okay, we could be in a good place for the rest of the year.
The corporate fundamentals also support this idea. Earnings for the third quarter are coming in well above expectations, as I expected, and earnings growth should improve significantly over the next couple of quarters. With earnings growth improving and interest rates still low, the underlying trend of stock prices could well remain positive, as the recent record closes show.
Not out of the woods
This positive news doesn't mean we are out of the woods, of course. With the impeachment process now underway and with the election pending, political uncertainty will become a growing headwind. The economy is growing, if slowing. But if the slowing continues? The growing might well stop. Even given these risks, however, the Fed's treat of lower rates will likely mitigate them.
We will still need to watch the risks, however, and react appropriately. A cautiously optimistic stance in no way eliminates that need. We should remain focused on the risks even as we take advantage of the opportunities created by the likely continuation of the slow growth trend.
That's the trick.