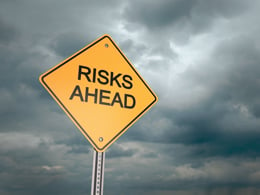 Just in case anyone has forgotten, it's projected that the U.S. will run out of money to pay its bills on November 3, which is less than two weeks away. Since we hit the debt ceiling some time ago, the Treasury has been using the "usual extraordinary measures" to pay the bills—including raiding other federal accounts (e.g., federal employee retirement system balances). But even that cash will run out in early November. Once again, a crisis is coming.
It's political
Just as in the past two crises, this is a political problem—not an economic one—and the situation looks worse now than it did then. The Republicans, who control the House of Representatives, appear unable to agree on a new speaker since John Boehner's resignation, and a substantial minority of that party appears ready to go to default.
I've said all along that the potential consequences of a default could be so severe that no reasonable politician would allow it. With the current situation, however, I'm much less confident. It still seems likely (even probable) that some kind of deal can be reached, but the risks are rising. So, this post isn't a forecast; instead, it's a premortem just in case things do go wrong.
The pathway to default
There are several levels that we must pass through on the way to an actual default—each with dramatically different consequences. Let's call these scenarios DEFCON (default condition) 1, 2, and 3.
DEFCON 1: Where we are right now—and where we've been since early this year when we hit the borrowing limit. As mentioned earlier, the Treasury is paying bills using cash on hand and tax receipts, as well as by dipping into federal employee pension funds. The first time this happened, it signaled the start of the crisis. This time, we have been on extraordinary measures for months, and no one seems to care.
What will change if the government fails to reach an agreement by November 3, when the Treasury's bag of tricks runs out?
DEFCON 2: The next step. Although we've reached the debt limit, we've still been able to pay all outstanding obligations as they come due. The actual deadline will be when we can no longer pay these obligations in full, so something's got to give. In this case, one possible scenario would be to prioritize the following payments:
Debt interest (a relatively small part of total obligations)
Social security benefits
National defense
This means the government will begin defaulting on its obligations in some sense; however, as long as bondholders continue to receive interest payments and existing debt can be rolled over, there would be no effective default on debt.
A repayment bill? The Republicans are currently trying to pass a bill that would specify repayment priorities to avoid technical default on any obligations, while at the same time allowing them to continue pressuring the White House on other political priorities. It's far from clear whether this bill will pass; if it does, it will almost certainly be vetoed by the White House. More important, it's likely to be technically impossible to implement, given the logistics of the millions of payments made every month.
Even if an attempt could be made to do this, how long could this scenario continue? The answer depends on the timing of cash flows and obligations. When the cash flows could not support payment of debt obligations, we would move on to the next step.
DEFCON 3: Full-blown default. In this scenario, the government makes a political decision to not pay interest or principal to debt holders. This is the big one—and the apocalyptic consequences of this definition of default are what most commentators focus on. Should we reach this stage, the global consequences could be dramatic. But because of the potential repercussions and the latitude granted by DEFCON 2, the chances of us reaching this last stage are still relatively unlikely.
Even here, though, the damage may be limited. The markets know perfectly well that any default would be political, and the reaction might be limited. Still, real damage could result. Investors, like banks or pension funds, that are prohibited from holding defaulted securities, for example, might conceivably be forced to sell their Treasury bond holdings, which would cause incredible turmoil.
Again, while this could conceivably be worked around, the problem remains that as we arrive at DEFCON 3, many politicians are unaware of—or refuse to consider—the many ways in which a default could damage the financial system. Given this complexity, any attempts to mitigate the damage will fail to some degree.
So, what happens now?
We are currently heading into DEFCON 2. The deadline is reportedly November 3, but we will probably have some time beyond that. How much time, exactly, will depend on tax receipts and payment schedule. In any event, that is when the clock truly starts ticking. Expect markets to really start worrying around the end of the month as it becomes clear whether Congress will be able to address this in a reasonable manner.
An 11th-hour deal?
At this point, there's no economic reason for a default. But even with enormous economic incentives to reach a deal, for those holdouts who refuse to bargain, there are equally large political incentives to force a default or, at the very least, to hold out until the very last minute. This means we probably shouldn't expect a deal until the 11th hour, at best.
Right now, the least damaging outcome is for John Boehner and part of the Republican caucus to cut a deal with the Democrats to raise the debt ceiling. This is quite possible, but still looks unlikely, and would certainly be a last-minute event. Failing that, should Paul Ryan become Speaker, he is well aware of the issues and would be in a good position to cut a deal. After that, events are considerably less certain—and more worrying.
No need to panic, yet
At this point, we don't know how Congress and the White House will act, and these matters are entirely in their hands. Although there is no need to panic, the stakes are about to be substantially raised in the ongoing game of political and economic poker being played in Washington, DC. Expect a great deal more coverage—and volatility.