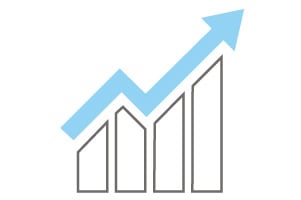 We're excited to roll out a new and improved format for our Monthly Market Risk Update (just like we did with our Economic Risk Factor Update last week). Each month, we will continue to review the biggest market risk factors, but we'll do so in a SlideShare format we hope you will find both easy to read and informative. Let's take a closer look.
Equity markets fell in August, as a late-month sell-off brought all three indices into negative territory. The S&P 500 lost 4.08 percent during the month, while the Dow Jones Industrial Average dropped 3.72 percent. The Nasdaq Composite saw the largest decline, as the technology-heavy index was down 4.53 percent in August. The equity market sell-off was caused by rising interest rates, due to concerns about tighter monetary policy from the Fed.
At this point, the risks remain high, and markets may see further losses before we get back to setting new highs. With many of the indicators we track in this update dropping to red, we have kept the overall market risk level at a red light for now.
View a breakdown of the risks we're watching in this SlideShare.
Let us know what you think of the new format in the Comments section.
This post was co-authored by Sam Millette.