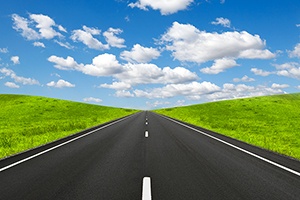 As I sit here looking out the window, wondering if my flight this afternoon will be able to take off, I'm reminded of the old proverb "April showers bring May flowers." With rain coming down in buckets and expected to continue all day, we have no shortage of showers here in Boston. You could say the same for the U.S. economy and financial markets.
April showers for the economy and markets
Although it capped a great first quarter, March was a slow month for U.S. markets, and April has been worse. Rainstorms include political risk, which came back in a big way with the collapse of the health care deal. The Trump administration and Republican Congress were widely expected to move the ball forward on domestic policy, cutting taxes and regulations and basically making the economy more efficient. After they failed their first test, many are questioning whether the other promises—principally, tax reform—will play out. Markets appear to be holding out hope, remaining close to all-time highs, but the positive feeling may be starting to ebb.
The economy has been raining on markets as well. The hard data (i.e., what is actually happening) continues to trail the sentiment data, which has increased dramatically. So far, when all's said and done, much more is being said than done by both businesses and consumers. The slow growth in consumer spending is a prime example. Another worry is that the first quarter might show a substantial slowdown, which could hurt confidence as well. Concerns are rising that this could be another false alarm for a faster recovery.
May flowers ahead?
Will the April showers bring better news in May? I suspect it's quite possible.
Political news almost has to get better. In the political realm, a major failure early on is pretty typical for new administrations, as we have seen with the Obama, Bush, and Clinton presidencies. Administrations come in with great intentions and not a lot of experience—and crash. They then take a step back, learn from their mistakes, and move on. That process is now under way, and it would be premature to write off the next two years based on one failure. Things almost have to get better—which would be good for confidence, the economy, and the markets.
Economy poised for further growth. In terms of the economy, the first quarter has been weak for the past several years (probably due to measurement reasons), followed by greater strength later in the year. In fact, though some hard data lagged in the first quarter of 2017, other indicators—employment, for example—have done substantially better than expected and suggest the recovery is likely to keep accelerating. Another significant difference this year is that the Fed is finally confident enough to raise rates, a big endorsement for the economy. Overall, though we may see a bit of a slowdown, the fundamentals remain positive, and subsequent quarters should reflect continued improvement.
Earnings growth could boost market. From a market perspective, there's also reason for optimism. Earnings are expected to grow for the third quarter in a row, at the fastest rate since the crisis. Market valuations also typically increase with rising confidence. Both of these factors should support the market and may even drive it higher.
All in all, though April showers are certain and May flowers are not, there's a pretty good chance we'll see the latter sprouting up soon. Rain is usual this time of year, both in Boston and in the economy and markets. Carry an umbrella, stay dry, and wait. Spring is coming.