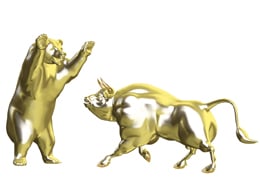 The market sell-off continues, and as the slide gets more severe, we have to ask ourselves, once more, how worried we should be.
I've written over the past couple of days that it's not time to panic, and I still believe that's true. But it appears there may be more short-term damage than I initially thought. Now, the question is, how much worse might it get, and what does that mean for us as investors?
A break in confidence?
First, let's consider why things might get worse. The basic economics remain sound, and a weak retail sales report this morning (a backward-looking indicator) was offset by an increase in consumer confidence, which is forward looking. Industrial production declined, but that's not a surprise given other data we already had. Overall, the economic news isn't grounds for today's decline.
The reason, then, must be that investor confidence is cracking, and fear is driving people to pull money out of the market. One proxy for this is technical factors. The S&P 500 has broken both its 200- and 400-day moving averages, which often suggests further weakness ahead, and is flirting with the lows of the last pullback, in August. Should the market break below that level, technical traders might well start selling, putting even more downward pressure on stock prices.
Right now, the S&P 500 is down about 13 percent—a normal pullback, in historical context. From a forward valuation perspective, we're at about 14.75x forward earnings, which takes us back to levels of mid-2013. So far, so normal.
There is, however, a clear possibility for confidence to break even further. Should that happen, as I discussed the other day, a 15-percent decline would bring us to 1,815, and a 20-percent decline would take us to 1,708, or to valuation levels of 14.3x and 13.5x, respectively.
What a bear market might look like
Looking at what seems to be scaring the market today, I'm reminded of the 1998 Asian financial crisis and the 2011 Greek/European crisis. In both cases, the markets dropped by about 19 percent. For the moment, let's take a 20-percent decline, consistent with those events, and analyze what that might look like. Assume, in other words, that declining confidence and rising fear bring us to a bear market. What would that mean?
In yesterday's discussion, we made a clear distinction between recession-driven bear markets and confidence-driven ones. Let's clarify that a bit further. In a recession, companies will earn (and, therefore, be worth) less. At the same time, scared investors will be willing to pay less for any stream of earnings. The drop in prices reflects this double whammy, and any recovery has to come from (1) an improvement in companies' earnings prospects, and (2) a recovery in investor confidence. On average, this takes about 30 months.
In confidence-driven bear markets, on the other hand, company earning power remains as expected; all that erodes is the willingness of investors to pay up. That, historically, has taken less time to recover—about six months.
If we got a bear market (i.e., a decline of the S&P 500 to around 1,710), the earnings yield would be around 7.4 percent, based on earnings estimates. In other words, if you owned all of those companies, at market value, you would be making 7.4 percent in earnings. With bond yields where they are, that looks like an attractive investment and should draw investors back to the market.
The path to renewed confidence
For confidence to return, though, investors would have to believe that those earnings estimates are correct. What would that take?
Some proof that earnings will match expectations. Earnings are expected to decline for the third quarter in a row, so positive surprises would help restore confidence. This is quite probable, as companies usually guide expectations lower in order to beat them. It's a two-sided game, however, since the lower current earnings are, the more easily they can be beaten in the future. Given the decline in earnings this past year, even modest improvement will likely allow for increases next year.
A rebound in the oil price. Energy and materials have been the major drag on corporate profitability, and even a modest recovery in prices would help create the earnings growth just mentioned. Plus, historically, low oil prices have meant a slowing economy. Although the markets are different now, a rising price would aid in the perception of growth and boost confidence.
Continued growth in the global economy. If U.S. hiring continues at current levels, for example, the strength of the consumer will ultimately lift corporate revenues and profits. If China demonstrates that it has taken control of its problems, growth concerns there will abate. The same applies to other countries.
Note that all of these factors can occur in a couple of quarters, or about the six months that confidence-driven bear markets have taken to recover in the past.
I'd rate the probability of the first factor occurring as quite high. Companies are cutting costs and doing everything they can to adjust to the current environment and resume earnings growth. With expectations getting lower by the day, positive surprises become that much easier to pull off.
As for oil, prices may well increase, and, as mentioned, it wouldn't take that much to have a positive effect. In any event, expectations for oil prices are now at rock-bottom levels, so some improvement in expectations seems quite probable. Finally, low oil prices actually have a very stimulative effect on the real economy, even more so in China and Europe than here, so the recent drop will help the third component (global economic growth) continue.
Scary times, but still a normal downturn
Right now, though, we are still in a normal downturn. Prices are down, but not by that much. The decline includes a tremendous amount of negativity baked into prices and downward momentum that is feeding on itself. Given all that has happened, I'm surprised it hasn't been worse.
It may yet get worse, of course (hence today's discussion). But if it does, it's important to understand why that is happening and what the recovery will look like. In summary, the current downturn may continue for a while but will ultimately burn itself out. In the absence of a recession, that probably won't take all that long.
The ride has been scary and may get scarier. If you remember the crisis of 2011, we felt the same way. If you don't remember 2011 so clearly, that in itself is a lesson: what was terrifying at the time vanishes when we look back.
This, too, will pass, and it may not take as long as we fear.