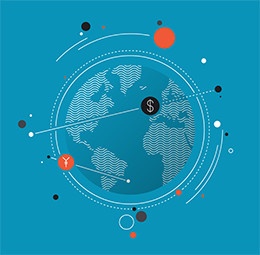 As we discussed yesterday, a number of countries depend on oil money to keep their populations happy, and lower oil prices are threatening those governments' legitimacy. They lost control over the pricing mechanism as free markets took over, spurred by new technology—in this case, fracking.
This scenario is neither new nor unique. If you remember, the collapse of the Soviet Union was driven in large part by a similar decline in the price of oil. With revenues falling and a perceived need to match U.S. military spending, public support for the regime withered. There was, however, another factor in play: the Soviet government's loosening grip on information. A new technology, the fax machine, enabled dissidents to communicate more effectively than they had before. In fact, looking back a couple of decades later, that technology was probably the biggest factor.
In any case, the loss of government control led to loss of legitimacy—and collapse.
New challenges to government arise
I would argue that this process has spread and accelerated, making government an increasingly competitive enterprise. Just as large companies have been successfully challenged—IBM, for example, is nowhere near as dominant as it once was—governmental monopolies are also fading. Where regional governments might once have seemed too risky (think Scotland and Catalonia), the greater availability of information and ability to operate at a smaller scale are changing that. The trend has been toward more integration (the European Union itself is a case in point), but that trend is poised to change.
The Middle East is a prime example of states breaking down in the face of new technologies that empower smaller groups. Existing states, such as Syria, were largely imposed by the West, with little relation to the underlying groups of people. Those people and other factions are now more able to move out from under existing governments. With a couple of exceptions, such as Egypt and Iran, which have long histories as nations and states, these trends suggest that we'll see considerably more Syrias in the future.
It also seems that the Islamic State (a term I use for lack of a better one) is potentially a model for the future there. If we think of states competing as companies do, ISIS is clearly a start-up that has established a competitive and defensible market position, one that has demonstrated a clear value proposition for people around the world. Although we don't have to like that, we do have to deal with it. But the options for the surrounding states are limited, for exactly the same reasons old-line companies have difficulty dealing with disruptive competition.
What does this mean for the U.S.?
A few points stand out:
We can expect more disintegration abroad, as this trend is only getting started.
ISIS is not going away, and it could end up replacing one or more of the states that now constitute the Middle East.
The same type of trend that is operating abroad is also operating here.
Much of the current decay in U.S. politics is caused by the breakdown of established institutions (i.e., the political parties). Thanks to new technology, Individuals (like Donald Trump) or groups that do not feel well served by the existing structures (like the Bernie Sanders campaign) are now better able to do something about it. Populism has been tried before in the U.S., but the large pools of aggrieved voters combined with modern technology may well have the same kind of disruptive effect on American politics as elsewhere.
I'm reminded of the apocryphal Eisenhower quote "Things are more like they are now than they ever have been before." We can expect to see the continuing breakdown of institutions and the empowerment of individuals and small groups. Here in the U.S., with our flexible, open society, we are well equipped to weather and even benefit from such changes. Most of the rest of the world will be less lucky.