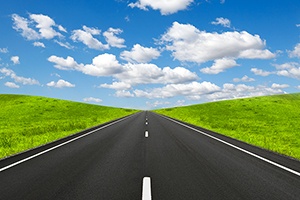 I spent this morning the way I usually do, reading the newspapers, looking at the economic reports, and scanning the futures markets. Also as usual, I found things to worry about: Consumer confidence, still high by historical standards, dropped more than expected in June, falling to its lowest level in almost two years. New home sales also missed expectations, declining for the second month in a row instead of climbing. The markets are down a bit as I write this . . . So far, so normal.
Somewhat unusually, by recent standards, although there are things to pay attention to, none of them are new. I write about these topics every day. On some days, the data is positive. On others, it's a little less so. A couple of days ago, I wrote about how the S&P 500 is on track to have its best June in more than 60 years. Again, so far, so normal.
Which is why I've decided it's a good time for a quiet day. I am down in Maryland at the cottage my grandparents owned, which now belongs to my parents. We had a very nice time last night watching the fireflies—which I don't get to see in Massachusetts for some reason—and enjoying the quiet.
My son caught three fish from the dock in the marina yesterday—his best fishing day ever, with his Poppy—and we are going out on Poppy's boat this morning to do some more fishing. It is about 80 degrees as I sit on the porch writing this, and the birds are the only sound I can hear.
It's not often that I get a couple of quiet days with family, fish, and fireflies, so I am going to take it. I hope you have at least one day this summer like I will have today.
Happy summer!