Economic data in April was mixed, with first-quarter weakness lingering in some risk indicators. Overall, though, the news was positive, and most forward-looking indicators we track bounced back from decreases in March. Given the good news in the employment and service sectors, two of the indicators here, it is very likely that the weakness in the first quarter, including March, was seasonal rather than the start of a negative trend. As a result, all of our indicators remain in green-light territory.
The Service Sector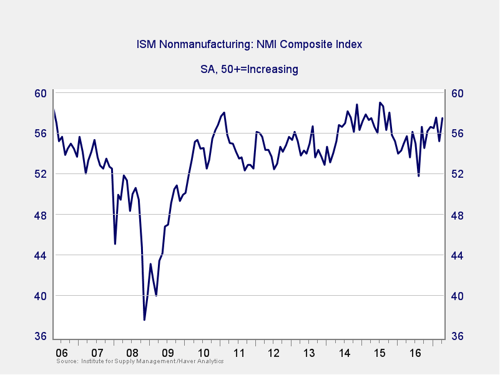 Signal: Green light
The ISM Nonmanufacturing Index bounced back in April to previous 2017 highs. This rebound was a positive sign for the service sector and indicates that the March pullback was likely transitory. With index levels in healthy expansionary territory, further growth in this important sector of the economy is likely.
This indicator has been in an uptrend since mid-2016 and remains a green light.
Private Employment: Annual Change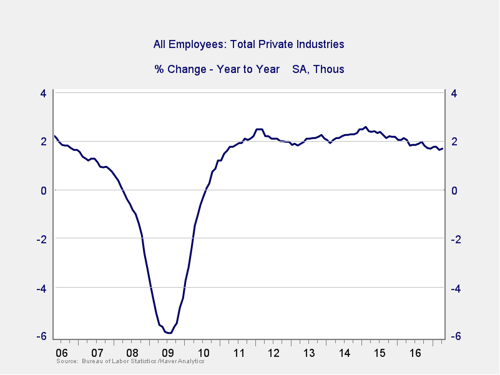 Signal: Green light
April job creation came in better than expected, with 211,000 non-farm jobs created during the month against expectations of 190,000. Underlying data regarding unemployment, underemployment, and wage growth was also positive. Although the year-on-year trend continues to decline, it remains in positive territory.
Because this is an annual figure, changes are slower and smaller than those we see in more frequently reported data. Overall, despite the volatility of employment growth, this indicator remains a green light.
Private Employment: Monthly Change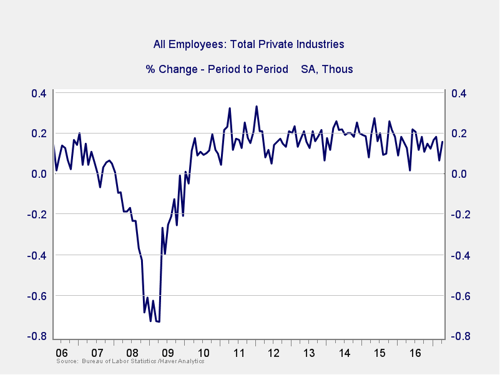 Signal: Green light
These are the same numbers as in the previous chart but measured on a month-to-month basis, which can provide a better short-term signal. April's headline job growth bounced back from a disappointing March report. Job growth was widespread during the month as well, with the education, professional services, and hospitality industries contributing the most.
This strong headline number with positive fundamentals indicates that the employment situation is healthy. This indicator remains a green light.
Yield Curve (10-Year Minus 3-Month Treasury Rates)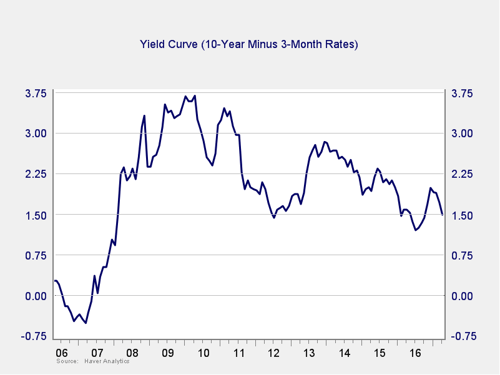 Signal: Green light
The yield curve continued to flatten in April due to decreases on the intermediate and long portions of the curve. The strong April jobs report caused market participants to increase the odds for a rate hike in June from roughly 70 percent to 90 percent. Such an increase would be seen as validation of a strong economy from the Federal Reserve.
The spread between the 10-year and 3-month rates remains far outside of the risk zone and shows that monetary policy is still seen as an economic stimulus. This indicator also remains a green light.
Consumer Confidence: Annual Change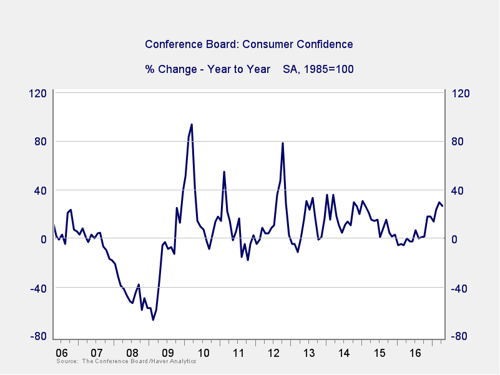 Signal: Green light
Consumer confidence pulled back slightly this month; however, this measure remains at levels we haven't seen since December 2000. Year-over-year growth is also healthy and sits far above the trouble zone. The continued strength in consumer confidence bodes well for future growth, so this indicator remains a green light.
Conclusion: Economy healthy, signs of weakness improve
Continued high levels of consumer and business confidence bode well for future growth. Although March showed some weakness in jobs and the service sector, strong results in April validate the idea that this was temporary—for seasonal and weather-related reasons—rather than something more severe.
We will, of course, continue to monitor the situation, but the probability is that the first-quarter pullback was a slowdown, not a reversal, and growth is likely to continue and even accelerate. Overall, the signal for the economy remains a green light.