Once again, it's time for our monthly update on risk factors that have proven to be good indicators of economic trouble ahead.
For the first time in a while, there have been significant changes in two indicators—one encouraging and one more worrisome—but overall, conditions remain favorable.
The Service Sector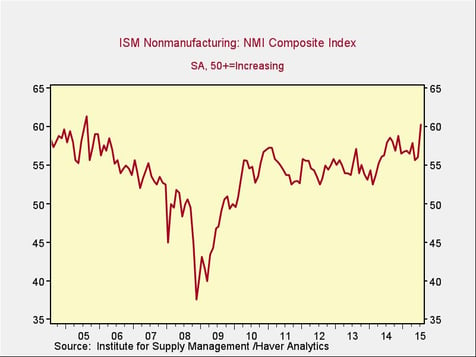 Signal: Green light
After several months of declines, this survey surprised to the upside, returning decisively to the highest level since before the financial crisis. This is significant not only for the size of the upward move but because the service sector represents the greatest portion of the economy, making this survey an important leading indicator. In the face of headwinds in other areas, this is a strong positive sign.
Private Employment: Annual Change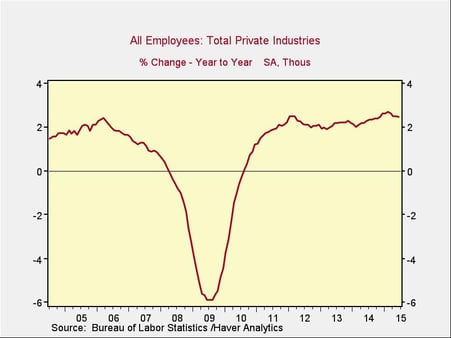 Signal: Green light
Private employment growth year-on-year dropped back slightly but remained close to its highest point since 2012. Because this is an annual figure, the changes are slower and smaller than those we see in more frequently reported data, but the trend continues to be positive.
Private Employment: Monthly Change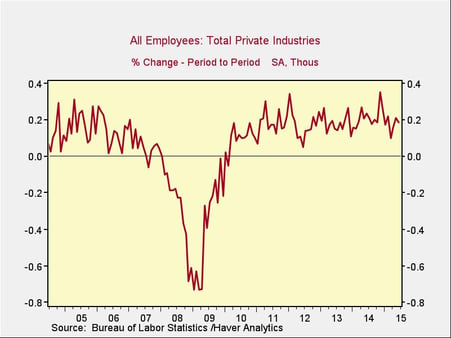 Signal: Green light
These are the same numbers as in the previous chart, but on a month-to-month basis, which can provide a better short-term signal. Despite a slight decrease, job growth remains at typical levels and was strong enough to keep driving the unemployment rate lower. Total employment growth continues to be healthy.
Yield Curve (10-Year Minus 3-Month Treasury Rates)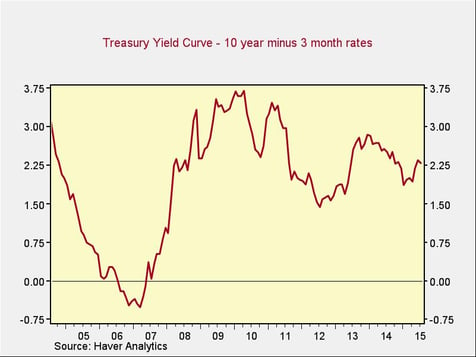 Signal: Green light
Rates for the 10-year Treasury ticked down over the past month, while 3-month rates remained relatively stable, narrowing the spread. Nonetheless, the spread between long-term and short-term rates remains at healthy levels. This metric hasn't changed despite the Federal Reserve's pending decision to raise short-term interest rates, seemingly due (at least in part) to demand from international buyers.
Consumer Confidence: Annual Change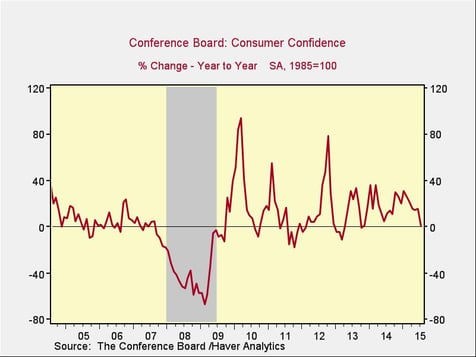 Signal: Yellow light
Consumer confidence decreased substantially this month, dragging the year-on-year change close to zero. Although this is nowhere near the worry level, which would be around −20, the magnitude of the drop suggests concern is appropriate, and I've adjusted the signal here to a yellow light. Note that the actual level of consumer confidence still remains reasonably healthy; the change in trend is what we're watching.
Conclusion: Nothing to Worry About
Overall, the major signs continue to be positive. The very strong results from the service sector indicate that business may grow faster, while the slowing consumer confidence trend suggests Americans may tigthen their wallets. Although consumer confidence is an area to watch, the big picture remains positive, with general expectations for faster growth in the second half of the year.