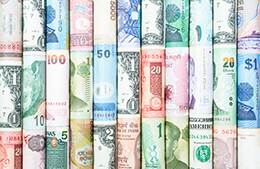 I don't read too many books where I find myself repeatedly stopping to underline something while thinking I didn't know that! There are even fewer that I keep on my shelf in order to reference the list of sources in the back. Connectography: Mapping the Future of Global Civilization, by Parag Khanna, earns both of those distinctions.
It also changed how I look at the world.
Breaking out of a U.S.-centric perspective
As Americans and investors, we tend to focus on what we know—namely, the U.S. For the most part, globalization affects us through indirect connections in employment or imports but otherwise has little impact on our lives.
Khanna makes an extremely strong case that this view is not just limiting but dead wrong: as a set of trends, globalization cannot be understood from a U.S.-centric viewpoint. Accustomed as we are to seeing the U.S. as the center of the world, that idea takes some getting used to and (for this reader, anyway) quite a bit of proof. Khanna provides that proof and then some, spinning a compelling narrative that explains how the world has changed in fundamental ways, even as the U.S. has not.
The biggest change Khanna cites is the rising primacy of economic relationships over political ones. What he characterizes as the "supply chain world" has reshaped how much of the globe operates, with China and India as the two biggest examples. Within these countries, he provides examples of how the process has (and hasn't) worked, offering clear guidelines for the future. Using Dubai as an example, he also makes a strong case that the future has, in fact, arrived, recalling William Gibson's statement that "the future is already here—it's just not evenly distributed."
In short, Connectography presents a radically different take on evolving economic and political relationships that has made me reconsider how I view the world.
Peak globalization?
At the same time, I wonder if the very success of the processes Khanna describes may have led to a moment of peak globalization. The author himself invokes a spiritual predecessor of his book, The Economic Consequences of the Peace, written in 1919 by John Maynard Keynes. Keynes pointed out that a resident of London could order pretty much anything, from anywhere in the world, and have it sent to him. It was true in 1919, but very untrue in 1930 and for decades thereafter.
This points to what is both a key strength and weakness of the book: its very clear proselytizing toward connectivity and the primacy of economic relationships. Khanna has a definite point of view and makes an excellent case for it. In a rational, economic world, it might even be an irrefutable case.
A great (if not totally realistic) read
As it happens, however, I finished Connectography just after the Brexit vote took Britain out of the European Union, against all of the rational economic arguments that had been made for staying. Politics had triumphed over economics. I can only imagine Khanna as Keynes, making the same argument for the same reason, even as London and the Continent start to separate again.
Read Connectography as an enlightening description of today's world. Read it as a passionate argument for continued growth and human improvement through trade and connections. Read it as a love letter to rational conduct between countries and cultures. Read it, in the end, as a best-case scenario for the future. The picture Khanna paints is attractive and compelling. Unfortunately, in a world of Brexit, Chinese expansion, and the possibility of the U.S. receding from its global leadership position, I'm not at all sure the picture is equally realistic.