This is a bit of a speculative post, as I'm writing it a day ahead of time, before the next set of employment numbers comes out. (I'll be on a plane to Norway for a family vacation when they do.) I may have to revise or retract some of my thoughts here, but hopefully the main points will survive.
Employment: no longer our most pressing concern?
As I mentioned yesterday, employment is the major issue in Europe, and it's still perceived to be the primary problem in the U.S. I think we're moving past that, however, and I expect the jobs numbers to confirm it. Let's take a look at where we are now: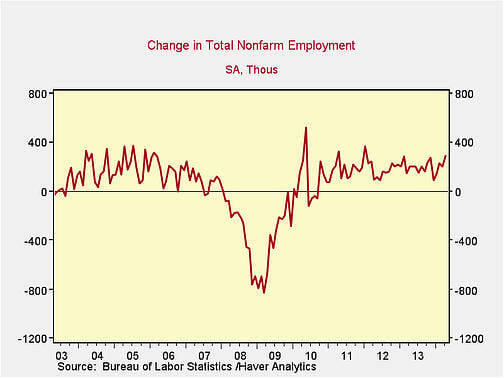 There are two parts to any recovery: posting job gains, and doing so consistently. You can see that gains are, on average, at about the levels of the mid-2000s right now, but they've become much more consistent, which is a good thing.
Another factor is how sustained the level of job growth is. On this front, the new data will be telling. If the number comes in above 200,000, it will be the first time since 1999—that's 15 years—that we've seen four straight months of 200,000-plus employment growth. Even if the number comes close, it's still a good sign. The growing but consistent level of new jobs is a significant positive indicator. We're not where we need to be, but we continue to move in that direction.
Other indicators suggest that job growth should be in the 200,000 range. Initial jobless claims ticked up a bit this week, but they're still at very low levels based on recent history. The ADP job creation figure came in somewhat light, but again, at a level that suggests 200K is quite realistic. Our economic consulting service, Capital Economics, estimates job growth at 230K.
And now, off to Norway
In addition to being Gadget Girl, my wife, Nora, is also Travel Girl. We went to Amsterdam last year, and it's Norway this year. She does all of the planning, and I just go along for the ride, so it works out very well for me. Plus, given the ECB's bold move yesterday, it's an opportune time to see firsthand what's happening in Europe. (So far, though, I haven't tried to expense the trip!)

Depending on the actual employment figures, I may revisit this post on Monday. I've already filed a couple of posts for next week, and plan to write one or two while I'm away, but I might end up skipping a day if nothing really warrants comment. I have fjords to see, after all.

Hope everyone has as great a week as I plan to!