I really like Amsterdam. I'm not sure exactly what it is, but I've never taken to a city like I have this one. Part of it is just that the city seems to work. The trams run on time and have an easily understood layout. The streets and canals are reasonably clean. The people are all clean and healthy, at least as far as I saw. They are also, by and large, courteous and helpful to the traveler.
Another plus was the weather. We really lucked out—it was sunny, warm, and pleasant the whole time. There were lots of very nice playgrounds, which got the five-year-old-boy vote. And there were small boats for rent on the canals, another bonus for Jackson.
Now, Amsterdam certainly isn't without its flaws. There's a lot of graffiti, and the chains people use to lock up their bicycles look like the anchor chain of the Titanic. Locks and doors are very, very solid. The large and thriving red-light district, I am guessing, is not the first employment choice for everyone who works there. Clearly, things aren't perfect.
And yet, the city and Dutch society seem well structured and open to change. The Amsterdam Museum includes large sections devoted to the past failures of Dutch society—not something I usually associate with national museums. I spent some time riding the tram system beyond the tourist areas and downtown, and the rest of the city seemed to be in good shape as well.
If I had to define what appealed to me, I'd say that this is a rule-based society. The streets have an intricate layout of tram tracks, bicycle lanes, car lanes, and sidewalks. You have to pay attention—there are only two types of pedestrians here, the quick and the dead—but once you master the rules, you can proceed more or less safely. Almost everyone seems to buy into and obey these rules.
The general acceptance of rules probably arises out of Dutch society naturally. After all, if the dikes and canals weren't maintained, if the social order broke down, the Netherlands would be open ocean. The windmills were originally built to keep pumping water out, among other things. To survive as a country, the Dutch need a steady, rule-based social order. Affluence no doubt plays a role as well. If everyone has enough, order is much easier to achieve.
If we take Amsterdam as an example of the northern European countries that are currently supporting the economies of southern Europe, we can see the ultimate goal of the European project: to make the southern countries more like Amsterdam itself—affluent economies that run smoothly. The necessary basis for that, though, is a social structure in which everyone buys into the rules.
That's something Greece, southern Italy, and even southern France, among others, haven't had historically. Judging by Greece's attempts to implement a functioning land registry and tax system, it's not there yet. And considering the apparent widespread tax evasion by the French elite, France may not be there yet either.
The notion that the convergence of northern and southern Europe is about economics alone seems unfounded. People are people the world over, but how people expect societies to behave, and the societies that result from individual behaviors, can be vastly different. Various studies have shown that certain social structures—the rule of law, say, or the level of corruption—are correlated with economic success. For Europe to succeed, the levels of economic productivity have to converge, which means that social mores must converge as well.
The question Europe is now facing is whether the southern countries will become more like the northern ones—which hasn't happened and doesn't seem likely—or whether the northern economies will continue to enable the southern ones and, by doing so, become more like them.
Either way, this would be a major shift. It seems more likely that each society will look at itself and decide that it doesn't want to make such a fundamental change. At that point, Europe will start to pull apart. After a week in Amsterdam and a day in Dublin, I remain marginally a euroskeptic.
And now for the tourist stuff
We took an apartment, which was much less expensive, and also much more convenient and pleasant, than a hotel. You feel like you're actually living in Amsterdam as you walk through the neighborhoods and stop at the local cafés.
The exhibit at the Van Gogh Museum was outstanding. I'm not a visual arts type of person, but I really got his art in a way I never had before. Other museums—the Rijksmuseum, the Amsterdam Museum—were good but scattershot. They're worth a look, but be prepared to work to find the stuff that interests you.
Bus and canal tours were good, but the tourist-scam component is as high here as anywhere. (Note the wooden shoe store.)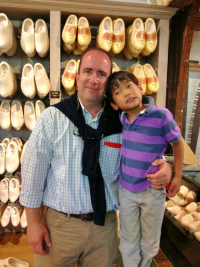 Overall, it was a very good trip—highly recommended.