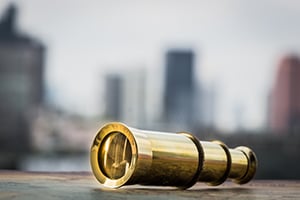 Spring is here! I have been eagerly awaiting the chance to write this post. Mind you, spring started a couple of days ago, astronomically speaking. And, of course, spring started weeks ago in more southern states. But today the sun is shining, the birds are making a heck of a racket, and my son went off to school in shorts. So, it seems fair to call this the first day of spring, at least for me.
Spring Good for the Economy?
Apart from marking the end of winter, spring has historically also been good for the economy. Travel and spending pick up, and residential construction resumes. This year, spring should also be good for the pandemic, as warmer weather makes the virus harder to spread and as people can get outside, rather than being cooped up indoors. Better weather should mean better reports across the board.
And yet that is not what seems to be happening. Much of the medical improvement has paused, and some of the economic data has been softer. You could be forgiven for looking out the window and wondering what the heck the birds are so cheerful about. Will things actually keep getting better?
I believe they will. We are seeing some softer data, on both the medical and economic fronts. But in both cases, there are reasons to believe things will keep getting better—just like the spring weather.
Damage Takes Time to Heal
The first reason is that we are still digging out from some fairly deep holes. On the medical front, despite the vast improvements, the third pandemic wave left large parts of the population vulnerable both medically and economically. That damage will take time to heal. The wide spread let viral variants get a foothold, and they are now pushing infection rates higher than they would otherwise be. Vaccinations will get that spread under control, but it will take time. Similarly, while hiring is picking up, there is a tremendous number of people who lost their jobs. That recovery will take time.
Real Risks Ahead
We also face the real risk that we will see setbacks, quite possibly significant ones. The recent contentious meetings between the U.S. and China as well as the financial implosion in Turkey, are reminders that the rest of the world has not gone away. There are significant case rises in several states, and Europe is still struggling with vaccine access. The medical battle is not over.
We are likely to see more winter weather before we get to summer, for both medical and economic news.
And yet this, too, is typical of spring in Massachusetts. Winter did a lot of damage to my lawn and landscaping. That takes time to regrow, and we are not seeing it yet. We will likely see at least one more significant snow storm, likely in April, that will kill a bunch of my flowers that bloomed too optimistically. Because things are getting better is no reason to assume nothing can go wrong.
Things Are Getting Better
But spring is a signal that, despite what will likely happen in the next month or even two, things are getting better. Vaccinations are progressing, which is pushing the death rates down even as case growth stabilizes. People are getting hired again, and jobs listings are above pre-pandemic levels in many areas. Summer is coming, with all that implies.
It has been a hard year and an even harder winter. It can be difficult to believe that things will keep getting better. But they will. It can be hard to listen to the birds being cheerful. But we will get there as well, sometime soon. It can be hard to look at the damage and realize we are moving forward. But we are.
Spring is here.