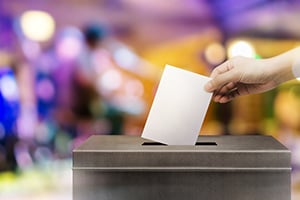 One of the questions I have been getting recently is about the effect of the midterm elections on markets. This is normal. In fact, given the level of partisan rancor—and the number of ads I've been seeing on TV—it is surprising that there isn't more concern around the elections. But with voting just a couple of days away, let's consider what the elections could mean for our investments.
The Big Picture
Starting with the bigger picture, over time, elections don't matter. If you zoom out on market performance (or economic performance, for that matter) and cover up the dates, you can't tell which party was in the White House or controlled Congress. The U.S. economy, over time, just keeps growing. The basic reason for this is simply that Washington, DC, can set the overall rules, but at the state and company level, American entrepreneurship simply figures out how to either take advantage of or, in some cases, evade and minimize those rules. Most of the country works despite, not because of, the federal government. Thank goodness for that.
Big Changes Ahead?
In some cases, the government, in theory, could do something that would meaningfully affect the economy as a whole, for good or bad. So, let's think about that. What would it take for that to happen? Each side has different definitions of good and bad here, of course. Let's sidestep that and just think about what would be needed for something significant to happen.
Significant, in this case, means both big and different from existing policy. Thinking it through, that would require a significant consensus on big changes or, in Congressional terms, a commanding majority in both houses. In the Senate, in particular, a filibuster-proof majority would be required. Looking at the Congress today, even with the expected impact of the midterms, there simply won't be that kind of consensus or supporting voting blocs. Anything big and different is off the table for the entire next Congress.
Nothing to Worry About?
From a big-changes perspective, the midterms are very unlikely to make a meaningful difference to the economy or the markets. Economic policy, fiscal policy, and tax policy are likely to stay stable for better or worse. And even more specific policies, determined by one branch of government, are likely to be constrained. Executive actions, for example, are going to be harder to execute in a White House subject to multiple investigations from a Republican-controlled House. And congressional action, in a split Congress or even with a Republican Congress without a filibuster-proof majority, is a non-starter. The real perspective for the midterms is for more gridlock and no big changes. As such, from an investment perspective, there is little to worry about from the midterms.
Next Up: Debt Service Ceiling
The real worries will not come from the midterms but from politics in general. The major pending problem will be the debt service ceiling, which could lead to another government shutdown. That is a problem for next year—and we will discuss it then, if necessary.