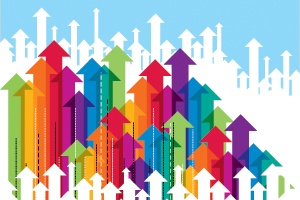 Maybe I should go away more often. When I left for vacation about two weeks ago, markets were pulling back on worries about Turkey. But after 10 days in Iceland (largely free of the news cycle), I come back to find markets hitting new highs. What is going on?
Risks starting to fade
Here is what I think. In the past two weeks, we have seen several risks that had been holding the market back start to fade. Fed Chairman Jerome Powell, for example, made a point in his speech at Jackson Hole that the economy was strong (repeating that several times) and that the Fed expected it to stay that way. Powerful stuff, for those who were worried about the economy. Plus, Turkey and other emerging markets—rather than continuing to drop—have modestly rebounded since I left. This rebound has eased the concerns of those who felt this was 1998 all over again. And for those who worried about trade wars? The news yesterday of the trade deal with Mexico is proof that the Trump administration's strategy can actually lead to deals and not just to more conflict. In other words, in the past two weeks, three of the major worries that have been holding the market back have eased significantly.
It is also worth noting that despite these worries, in the past six months, the market has actually been pretty stable. Now, we certainly saw a pullback in April. Since then, however, the story has been of steady appreciation, even as the worries kept accumulating. When those worries started to ease, that upward momentum gave us the recent pop.
What do these highs mean for the rest of the year?
I suspect more of the same for the rest of the year. With fewer worries holding the market back, continued appreciation in the face of strong fundamentals seems reasonable. My own target—of 3,000 for the S&P 500 at the end of the year—remains very possible and may even end up being conservative. In fact, that is just what I talked about with Scott Gamm earlier today on TheStreet.
Other positive signs include today's consumer confidence reading, at a 17-year high; the positive performance of retailers, especially in the luxury space; and the very tight labor market. High confidence for both consumers and investors has typically been a self-fulfilling prophecy. We may well be at that stage of the cycle when the good times start to roll.
Good times won't last forever
It won't last forever, of course. Some turbulence is possible—even likely—in September and October, two notoriously volatile months. If we do get turbulence, though, it is worth keeping in mind what has happened over the year so far: When worries accumulated, the market rose. When the worries subsided, the market rose further. As long as the fundamentals remain solid, that trend is likely to continue.