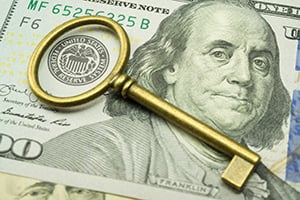 It's time to go to the mailbox again for questions about a central bank digital currency—a digital dollar issued by the Fed here in the U.S. This is a bit of an obscure topic, but it seems to be getting traction as something to worry about. So, let's take a closer look.
Government Control?
The concern is that financial privacy will be lost with a digital dollar. The government would be able to watch how people spend their money, close their bank accounts, or even just take the money. In other words, the worry is that a digital dollar would be one more way for the government to control us and our money.
There is enough truth to all of this to make a good story, which is what makes it compelling. Overall, though, this is nothing to worry about in the short term and very likely not in the long term. To understand why, there are two components we need to look at: central banks and digital currencies.
Official Tender
The key element here is the central bank, which will issue any such currency. This is distinct from bitcoin or other cryptocurrencies, in that a central bank digital currency would be official tender, backed by the central bank. In that way, it would be like the current currencies, including the dollar.
Here in the U.S., if the Fed issued a digital dollar, that digital dollar would be substantially identical to the cash dollar and could be exchanged as such. The exchange rate would be constant, as they would be the same thing created by the same governmental mechanism. A digital dollar would be a dollar, just like the bill in your wallet. This doesn't apply to bitcoins or other cryptocurrencies, but that is the point. This digital currency would be issued by a central bank. So, the central bank component makes a currency official. So far, so normal.
Digital Already the Norm
But what about the digital component? Here, too, this is already normal. If you think about it, we already have digital dollars that we use all the time. When was the last time you paid your credit card bill with cash? For that matter, using a credit card at all is a digital transaction. Your bank does not have piles of cash in the vaults but, rather, line items in the Fed's digital accounts. And so on. In many respects, we already have digital dollars issued by the central bank.
When to Worry
So, where are the worries coming from? The existing situation already offers less privacy than we have had in the past, and it could get worse as things get more digital. We are okay now, but the trends are in the wrong direction. As I said above, there is some reason behind the concerns. How will we know when to worry?
There are a couple of things that still give us privacy. If those come under threat, we should be concerned. First, we still have cash. If cash were eliminated, then all spending would be digital and, therefore, potentially trackable. So, eliminating cash would be a red flag. Second, if the government had direct visibility and access to people's accounts—say if the Fed allowed or required people to open their accounts directly with the Fed rather than with a bank—then there would certainly be the possibility of abuse. There is the potential for problems here.
But those are things to watch for and not current concerns. As long as cash is available, the prospect of tracking can be avoided. As long as independent private banks exist, we will be able to keep at least that degree of separation from the government. While the current system has problems, a degree of privacy and independence is built in. And that is what people are worried about losing.
Keep Calm and Carry On
That isn't happening, at least at the moment. The banking system is still reasonably robust, and cash is still available. When that changes, then I will be more worried about the potential negative uses of a central bank digital currency. Now, though, we effectively do have exactly that, with no more problems than usual.