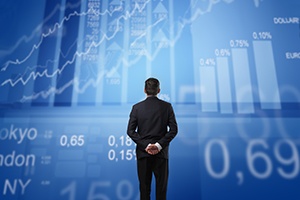 I am really coming to grips with my 2018 outlook, and I find myself wrestling with the implications of slowing growth on the economy and, in particular, the markets. The fundamentals have been strong, with good earnings growth driving the markets up. The other major factor has been confidence, both business and consumer, which (despite everything) has been rising. Typically, rising confidence drives stock market multiples higher—and that is exactly what has happened this year. So, the great market results we're seeing have been the result of a double whammy: improving fundamentals as confidence and valuations rise.
Looking into 2018, however, growth is likely to slow for a variety of reasons. This, in turn, should slow earnings growth, which is already reflected in the estimates. What will the effect be on confidence and valuations? That will be the wild card in trying to figure out what markets are likely to do.
What's happening now?
We got a good lesson in confidence and market valuations yesterday, and it looks like today as well. With the Senate tax reform plan differing markedly from that of the House, confidence that something would get done this year dropped markedly. And so did the market.
That was the narrative, although I have my doubts it is that simple. In any case, politics has indeed come back into the picture and reduced the chance of any meaningful policy action that markets would like. The elections in Virginia and New Jersey have been widely interpreted as giving Democrats a better chance to take back the House next year, which would stop any Republican initiatives dead. This makes tax reform even more of a do-or-die project for Republicans, and the reaction to the different plans got amplified. Confidence—that government would act to improve the economy and corporate results—took a hit, as did the markets.
In truth, tax reform was never going to be that simple or easy. The House and Senate plans were always going to be substantially different and require reconciliation. And that reconciled plan will still have to be approved. Midyear elections are usually tough for the party in power, and 2018 was always going to be up for grabs. None of this is really news. The market is now reacting to something that was completely predictable and yet, apparently, a surprise.
What will happen next?
This brings us back to that 2018 outlook. With job growth slowing, with the personal savings rate down, and with consumer confidence likely peaking, it is very probable the economy will slow next year. Presumably, the Fed will raise interest rates as well. All of these factors will lower corporate earnings growth and likely business confidence. What will be the effect of slowing earnings growth combined with lower confidence? Even though this is very probable, and predictable, chances are that—at some point—it will hit the markets as a surprise.
The economy and market have benefited from an extraordinary collection of positive trends; 2018 will not see all of them disappear, or even most of them. But some of them will go away. Trying to figure out which ones is the challenge.
A challenging year ahead?
I am on record as saying a recession in 2018 is quite possible. I don't necessarily see this as a base case, with the recent positive developments we have had. But it certainly is a real possibility, which rises substantially into 2019. Even if we see growth continue, 2018 is going to be substantially more challenging than 2017 has been. This is something that is both very probable and predictable.
Take the lesson of yesterday—that confidence can go down as well as up—and keep it in your mind when you think about 2018. Don't be surprised, like the market, at things we can see coming.