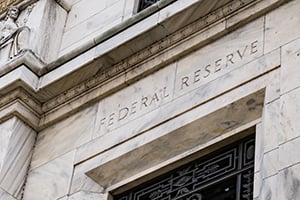 With the end of summer drawing near, it has been a busy couple of weeks. We had the Fed's annual conference in Jackson Hole and a whole bunch of economic data, including a new inflation release and the jobs report this morning. When we last talked, the markets were selling off. So, let's look at where we are now and what mattered in the past couple of weeks.
Truth be told, we are in pretty much the same place as we were two weeks ago. The economy is still growing, but more slowly. Inflation is still too high, and the Fed is worried about it. But the good news is that markets have bounced back a bit since two weeks ago.
Rates Start to Pull Back
There is one thing that is worth discussing. Two weeks ago, we noted that longer-term interest rates popped to the highest levels since about 2008. This was before the Fed's conference and largely reflected fears about what the Fed might say and do. In fact, nothing much was said or done at Jackson Hole. And since then, rates have pulled back rather than continuing to rise.
That pullback reflects the conclusion, post-conference, that the Fed may be pretty much done, and the weaker economic data has supported that. Job and wage growth slowed in this morning's employment report, and unemployment jumped. With other inflation measures softening and with no hints of tighter policy, the pullback in rates helped markets recover in the past two weeks. That connection between the two matters because it suggests the Fed could help support markets going forward, which would be a good thing.
Economy and Markets Remain Solid
At the same time, even as slower growth means the Fed may be receding as a market risk, that growth is still solid. Almost all metrics are still historically quite strong, and there is no recession imminent. Despite the worries, both the economy and markets are still doing quite well to finish the summer. And that is not a bad note to end my vacation on.
Have a great long weekend, and I will see you next week!