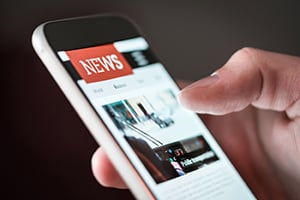 What mattered this week? Well, on top of it being a short week, there simply wasn't much happening. The one piece of economic data that mattered, the ISM Services survey, surprised to the upside. This result indicated that service businesses, on the whole, are not only still in expansion mode but are even feeling better. That is good news from an economic perspective and, on top of the last jobs report, signals that the economy continues to grow.
Is Good Economic News Bad News for Markets?
Unfortunately, that good economic news was bad for markets. Interest rates continued to creep up, rising close to the highest levels of the past decade or more. Higher rates typically mean lower stock markets. Indeed, we did see markets pull back from the late August rally, down about 1 percent for the week here in the U.S.
Given September's record, though, this week's market decline isn't much of a surprise. September is notoriously a bad month for markets, and we may well see more volatility ahead. At the same time, the fact that the economic data is still good should provide some cushion, as well as the potential for a rebound later in the year.
And that is what mattered this week: the economic news is good, and even improving. That is a positive way to start the fall.
Have a great weekend!