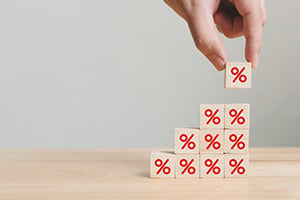 This week was all about interest rates. The yield on the 10-year U.S. Treasury rose to the highest level since 2007, topping 4.5 percent after running up from about 4.1 percent at the start of the month. That is a big jump, driven by a growing market realization that the Fed is serious about keeping rates higher for longer.
Fed Meeting Notes
That conviction got another significant bump this week after the regular meeting of the Fed. While the Fed left rates unchanged, Chair Powell was clear in the press conference that another rate hike is quite possible this year and that cuts are nowhere in sight. Rates spiked after his remarks and for the next day. Although they have pulled back a bit today, they are still well above where they started the week. The question really is whether this pullback will last or whether we will see more increases next week.
A Bad Week for Stocks
Markets seem to be betting on more increases—and certainly higher for longer. U.S. markets were down between roughly 2 percent and 3 percent since Wednesday, on those higher rates. This has been a bad week for stocks, taking back most of the month's gains so far and fully living up to September's history of volatility.
Where We Go from Here
We should get a better idea of where things are headed next week. With the consumer confidence data and personal income and spending coming out next week, we (and the Fed) will get a better sense of whether the economy is softening and what that might mean. The good news is that income and spending are expected to keep growing. This would be a good sign that, even as the markets bounce around, the fundamentals are still solid.
A Good Adjustment
That is not a bad thing to look forward to. We did see a significant adjustment in rates this week. But the truth is this now reflects a more realistic expectation for future policy. As such, this is a good adjustment. It's not a fun one, but it leaves us in a better place as we move forward.
Have a great weekend!