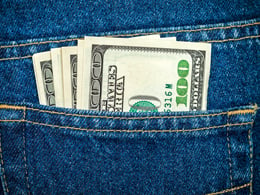 Thus far in the recovery, wage growth has been a mirage—presumed to be out there, occasionally sighted, but never actually brought to bay. There have been signs for some time that wage growth was coming, but it's never arrived. Like someone crawling across the desert, every time we've seen water, it's turned out to be just more sand.
That changed today. The Federal Reserve's preferred measure of wage growth, the employment cost index, just beat expectations with an increase of 0.7 percent, the second quarter in a row that it's jumped above the range of recent years.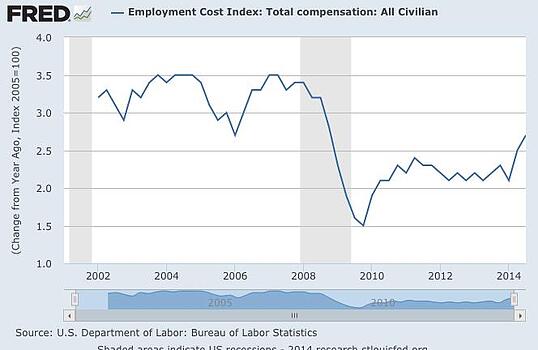 Once is an accident, and twice is a coincidence, but we're now on the brink of a third increase, which would mark a trend. We haven't been here in quite some time. Wage growth over the past 12 months is about 2.2 percent, a five-year high, and the most recent two quarters show that it is accelerating considerably.
Could we be nearing the wage growth oasis?
Unlike in the past, we seem to be making real progress this time. Looking at the GDP report for the past quarter, we see widespread gains in employment. Consumer confidence is at multiyear highs. Government and business spending have both recovered.
Wage growth is a lagging indicator, which makes sense. First, the economy has to recover, then businesses have to believe it and start hiring and investing, and then workers have to catch on and start demanding higher wages. We have completed the first two stages and are slowly moving into the third. How quickly that happens will determine the rate at which wages grow.
Looking at the overall data, consumer spending will likely continue to improve. With gas prices dropping, people are able to spend more, which would further boost the economy. The dropping unemployment rate, combined with the very high job opening rate and low firing rate, should keep worker confidence rising. The voluntary quit rate, a great proxy for worker confidence, is back to levels from before the financial crisis, per the following chart.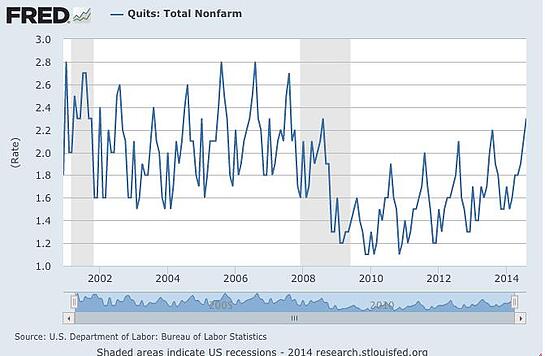 The last piece of the recovery
We haven't reached the oasis yet, but the trends right now are in line with what I'd expect for continuing improvement. Wage growth is the missing piece of the recovery and could markedly accelerate it. It's what the Fed has been nervously awaiting.
If the rise in employment costs and wages continues, as it should, the recovery will be essentially complete in the next six to twelve months. This is consistent with the Fed's projections, if you think about it, with a normalized economy leading to a normalizing interest rate policy—right about the middle of next year.
We still have to worry about the rest of the world, of course, but the foundation here in the U.S. remains solid—and is getting even stronger.