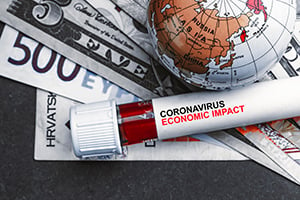 I spent last week down in the Florida Keys on vacation with my family. It was great. The weather was terrific, we went snorkeling and kayaking, and the place we stayed was very nice. Truly relaxing.
When we got back, however, it wasn't so relaxing. My son, who was supposed to return to school full-time this week, tested positive for COVID. Interestingly, his friend—who had come with us and been sleeping in the same room—tested negative. So, we went and had another test done, which came back negative. It looks like a false alarm, but he is still home for another week before he can head back to school. His mom is not pleased.
Fourth Wave False Alarm?
At this point, it seems the fears we had of a fourth wave of the virus are also a false alarm. In late March, as the country reopened and the weather improved, we saw people starting to go out again and case growth starting to tick up. It looked very much, in fact, like what we saw last summer and last fall, as prior waves got going. There was a real risk that a fourth wave could have been starting. Up until early April, that outcome remained quite possible. The most recent data, however, shows case growth declining again, suggesting the peak of the fourth wave is now behind us.
The case growth numbers are supported by testing data as well. The number of daily tests has remained steady. But over the past two weeks, we have seen the number of positives drop sharply, to very close to the lowest level of the pandemic. Over the same time period, hospitalizations have also peaked and started to trend down, as have deaths. Any way you look at it, we saw a bump that looked like the start of a fourth wave, only to see it then roll over.
Could a Return to Normal Be in Sight?
This is, obviously, good news, and it is because of the substantial progress that has been made in vaccinating the country. According to the Wall Street Journal, more than 230 million doses have been administered. More than 40 percent of the population has been given at least one dose, while almost 30 percent is fully vaccinated. Depending on what trends you look at, we should reach 75 percent vaccinated by late July, which should get us very close to or at herd immunity. If current trends continue, we are now three months away from something approaching normal.
Those positive trends explain much of what is going on in the economy. People are working again, as job growth is way up and layoffs way down. People are traveling and shopping again, as spending and confidence spike back up. Markets are pricing in continued and accelerated growth, which makes a lot of sense if current trends continue.
Will Positive Trends Continue?
That if, however, is a big one. We are now seeing vaccination rates dropping, as those most likely to get their shots have done so. We are moving from a shortage of jabs to an excess. This change is both expected and good, as it allows people to simply walk in for their shots. But it also highlights that those people need to do just that. The real risk going forward is that many will not. That three-month schedule noted above depends on everyone continuing to go for their shots at the same rate.
We have real progress here and the prospect of going back to something like normal. We have substantially reduced the medical risks and will continue to do so. We have reduced them so much, in fact, that the primary risk going forward is not medical, because that can be controlled, but human behavior. This brings us back to my son. Hopefully, this is a false alarm, and he has no symptoms. But his school, out of an abundance of caution, is keeping him out for another week. Better safe than sorry.
Monitoring the Risks
And that is where we have to be with vaccinations. Even with the real progress, vaccinations need to continue. That is what I will be watching going forward, to monitor the economic and market risks. We have the likelihood that we can move past the pandemic, but we are not there yet. Current infection rates, while down, are still well above the first wave and close to the second wave. This crisis can be over, but it is not yet. What will determine whether we do move past the pandemic will be whether vaccinations continue at current rates. That is a much better and more controllable risk than the pandemic itself—but it is still a real risk.