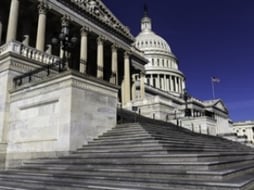 As predicted, the world did not end upon Donald Trump's election to the presidency. In fact, from an economic and market perspective, it has appeared to be good news, at least so far. Of course, it's still early days, and the question now is, What happens next?
Let's start with what we know so far. President-elect Trump has called for unity, which is positive. President Obama has also committed to a smooth handover of power. The immediate risks seem to have gone away, which is undoubtedly a big part of what has lifted markets in the past couple of days.
Anticipating Trump's economic policy agenda
Now, however, things get more complicated. While the Trump transition team works on staffing the administration, Trump himself has to define exactly what he plans to accomplish over the next four years. From an economic point of view, these are the major areas he will have to address:
Trade. The most high-profile consideration, it's also the one with the greatest potential for disruption. Immediately, both the Trans-Pacific Partnership and the Transatlantic Trade and Investment Partnership can be considered dead. If Trump scraps them, as he is expected to do, it would rattle governments around the world that have invested significant political capital in the deals, notably Japan.
Beyond this, how Mr. Trump chooses to deal with NAFTA and China will take center stage. A measured approach—such as renegotiating NAFTA or using multilateral institutions to tackle complaints about China—likely wouldn't be too damaging (and could even end up being constructive) for the U.S. economy. More significant unilateral action, such as the tariffs Trump mentioned during the campaign, would be more disruptive.
Regulation. This will be one of the biggest differences in the Trump administration and potentially the most positive one for business. Regulation of many industries exploded over the past eight years, with finance, energy, and health care three of the biggest examples. Although there are good arguments for many of the rules, regulation typically slows business investment, makes expansion more complicated and costly, and generally acts as a headwind. Removing or streamlining current regulations could well boost growth significantly. In the three industries just mentioned, the change in investors' expectations is already apparent, as prices have shot up.
Infrastructure. One of the clear messages of Trump's victory speech was that government spending on infrastructure would increase. Slow government spending has been one of the real detractors from economic growth over the past several years, so this stands to help substantially. It also addresses a real need. Along with the reduction in regulation, increased infrastructure spending could help speed up the economy substantially, fulfilling one of Trump's main campaign promises.
More gridlock ahead?
In order for all of this to happen, however, the Trump administration will need to work with, or around, Congress. In theory, with a unified Republican government, this should be easy. Based on Speaker Paul Ryan's recent remarks, there certainly seems to be the intent to work as a team. But a couple of major issues could derail that, namely:
The deficit. Two of Trump's primary proposals, tax cuts and infrastructure spending, could run straight into the Tea Party faction's worries about deficit spending. Most outside estimates suggest Trump's plans could add about $600 billion per year to the deficit, pushing it over $1 trillion per year. Will Tea Party Republicans sign off on that?
The Democrats most likely won't, at least for the tax cuts, so the relatively narrow Republican majority will have to hold together. Running up the deficit is what many of them were elected to oppose. Will loyalty to the new administration trump that earlier commitment? We will see.
The Democrats. They're down but not out. Much as when Obama was originally elected, the minority party could go into scorched earth mode. In the Senate, in particular, the filibuster has been a very effective way of slowing or stopping policy proposals. The minority party might continue to disrupt government, just as we have seen over the past eight years. The era of governmental gridlock is not over yet.
Economically speaking, reason for optimism
Overall, though, there is real potential for good news from an economic perspective—the key word here being potential. Party confrontation in Washington is likely to continue, and internal Republican battles aren't out of the question.
And, of course, new policies will also have costs. One law that won't change is the law of unintended consequences. We will talk about that next week.