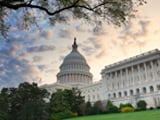 I hope everyone had as much fun over the recent holiday weekend as my family did. Between picnics on the beach, a hike up a (small) mountain, lots of playing in the pool, and going to see How to Train Your Dragon 2, a great time was had by all.
Part of the whole Fourth of July ambience, of course, is reminding your kids that they live in the greatest country in the world. That's very true in some ways; in others, not so much. But the holiday inspired me to revisit just how well positioned the U.S. is compared with other countries, and why we're lucky to be living here.
How we stack up: U.S. vs. Norway
One way to get some unbiased (or at least consistently biased) information is to use comparisons from third parties. An interesting example is the OECD Better Life Index, which compares countries' well-being based on key factors related to material living conditions and general quality of life.
Let's do a comparison with Norway, a country I really enjoyed visiting—and one of the wealthiest in Europe today. Norway is a small, ethnically homogeneous nation in a very civilized part of the world. It also has the incredible advantage of a major oil industry (and the large sovereign wealth fund to go with it).
You'd think this would be a difficult matchup for the U.S., but let's take a look:
Housing. Even after a monster crisis five years ago, the U.S. comes in slightly ahead of Norway, at 7.8 versus 7.7 (with 10 being highest on the scale).
Income. The U.S. posts a 10 while Norway scores a 4.
Health and safety. Perhaps most surprisingly, the U.S. also bests Norway in health (8.5 versus 8.1) and safety (9 versus 8.8).
Not too shabby, considering I deliberately picked a very difficult comparison country.
We didn't prevail in every category, of course. We lost on jobs—not surprising given the slow economic recovery, plus the fact that Norway has a much larger governmental sector. We also lost on community and civic engagement. Considering the size and diversity of the U.S. population, not to mention the current political environment, that's also unsurprising.
And we don't just come out ahead of Norway. The results were relatively similar for Germany, with the exceptions of civic engagement, where the U.S. was way ahead, and health, where our lead was greater.
We're doing better than you might think
Given the differences in the size and population of the countries, as well as their different styles of government, the U.S. does incredibly well in the Better Life Index, all things considered. Although quality of life is where most critics of the U.S. hit us the hardest—and we certainly need to improve in many areas—we're doing better than I thought.
What's more, while the U.S. is in a strong position now, we're even better positioned for the future. I'll talk more about that tomorrow.