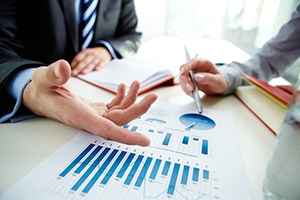 One of the questions we often get is whether people should invest in hedge funds. This question is more complicated than it seems. Today, Rob Kane will take a look at whether you can—or should—consider such investments. Commonwealth's Research team provides this kind of expertise to advisors and clients, and I am happy to offer a sample of what we can do for an asset class that is so much in the news. Over to you, Rob.
Hedge funds are wrapping up a relatively stellar 2017. This positive performance has led to investor demand, with inflows aiding in assets under management soaring to a record $3.3 trillion. Allocators understand, at least on a high level, that hedge funds have certain attractive attributes that many seek when constructing portfolios. Perhaps most important is the ability to protect capital and generate profits in any market environment.
The truth, however, is that most of us will never be able to invest in such products. Here are just a few reasons why.
Investor accreditation. Hedge funds are rather exclusive and limit their investor base to only "sophisticated" investors. These investors must meet a certain income or net-worth requirement that matches them to a regulatory definition of an accredited investor, qualified client, or qualified purchaser.
Use of leverage. To turn small gains into lavish returns, managers rely on the use of leverage. In fact, certain hedge funds have reached leverage amounts in excess of 25 times. Leverage is a double-edged sword, so perhaps there is something to be said for these sophisticated investors wanting to take on that type of risk.
Liquidity premium. Managers seek certain securities that offer a liquidity premium or simply put extra compensation for holding a security that cannot be easily traded. Among other influences, in order to limit the need to sell such securities to meet investor redemptions, managers restrict the frequency and the amount that investors are able to redeem at any one point in time.
How does an "unaccredited" investor invest?
Some have started investing in mutual funds and ETFs that replicate hedge fund returns. These products are a fraction of the price of the standard hedge fund and offer the benefit of liquidity. Some are being touted as having the ability to clone up to 85 percent of hedge fund returns—at a time when stocks have soared to record levels and bonds seem to provide more worry than comfort. As such, many would welcome diversifying strategies within their portfolios. So, what exactly is hedge fund replication? And can we truly expect that level of correlation to hedge fund returns?
Hedge fund replication
Before diving into the details, we need to understand the basis of the strategy. In short, the notion is that typical hedge fund managers—even with their academic achievements, perceived access to superior information, and complex trading styles—generate alpha as consistently as the New England Patriots lose! Instead, the portion of returns that investors have widely accepted as alpha needs to be substantially redefined as beta. Why? Such returns of hedge fund managers are largely driven by exposure to various factors held within their portfolios and, to a far lesser extent, reflect manager skill.
Given such a belief, the concept of hedge fund replication accepts as truth that one could reproduce the sources of risk and return with the use of liquid securities through one of the following techniques.
Rules-based approach. This approach is the most straightforward of all the techniques. Models are designed so they can systematically simulate typical trades of hedge funds. Take merger arbitrage as an example. This approach could categorize all announced mergers and acquisitions within the U.S. with a deal value above $500 million and go long the target company and short the acquirer.
Factor-based replication. To mimic returns of hedge funds, this strategy relies on rolling regression analysis to determine which factors have been generating returns. From these findings, the portfolio team can decipher the appropriate mix of liquid securities to best match the related return stream. Applying this approach on a consistent basis theoretically captures some of the market timing ability of hedge funds.
Distributional approach. This approach is fairly nuanced. The most informal way to state the concept is that by matching certain risks that are most prevalent in hedge funds, the process would be able to successfully replicate the return stream.
Out of these techniques, most products available are dedicated to factor-based replication. This approach has shown the highest relationship to hedge fund returns, obtaining over 80 percent correlations, as alluded to earlier. This seems to answer the question that the average investor can indeed access hedge fund-like strategies and would want to focus on those using factor-based replication.
Caution!
A word to the wise: just because you can doesn't mean you should invest in one of these products. Much of the data that accompanies these replication funds reflects back-tested results. In particular, regression analysis is known to have a significant weakness (referred to as "overfitting"). Without getting overly technical, overfitting occurs because the model that is relied on is repeatedly tested on a particular set of data—in this case, hedge fund returns—over a specific period of time. The models are altered to match the particular data set as closely as possible; in return, this achieves high correlations to hedge fund performance. Perhaps you have already uncovered the flaw in this process: if all this time is spent focusing on a specific period in the past, how can these models work with new information (i.e., when they are "live")?
Unfortunately, many of these underlying models have failed to adapt to new information, which has resulted in wide performance fluctuations. In turn, this has created additional skepticism around the effectiveness of these strategies. While most managers try to update their models on a consistent basis to mitigate performance concerns, it does open up the door for a potential change in process from what was originally intended.
Due diligence required
In summary, you don't have to be an "accredited" investor. But you do need to be an informed one. As good as the replication concept looks on paper, much of the investable universe available to retail investors has failed to deliver on expectations when it counts. As with any investment product, proper due diligence needs to be taken from time of initial investment, as well as over the life of the holding, to ensure that the original expectations and process remain intact.