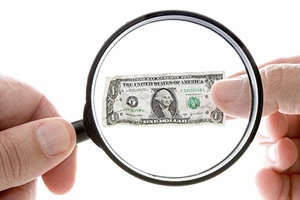 One of the key points in my argument that things are actually pretty good—and likely to get better—has been that with a growing economy, companies are selling more and making more money. Rising profits, especially on a per-share basis, are the foundation for a rising market.
As you can see in the chart below, revenue growth has shown a good upward trend over the past several quarters. Despite a small pullback, it has been at strong levels (for the most part) since 2011. In fact, companies are selling more, which is supporting the market.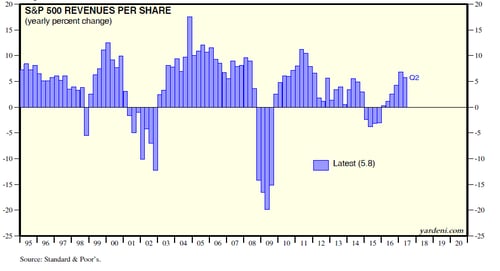 Earnings growth, as illustrated in the next chart, has also been strong. While expectations are for growth to be a bit slower in the third quarter, the fourth quarter looks likely to pick up again.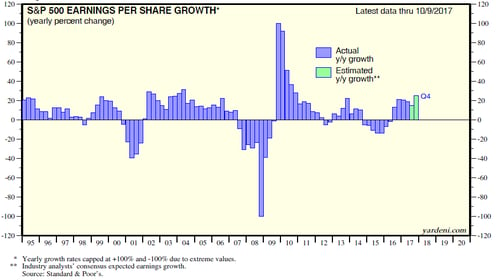 The third-quarter slowdown
Let's take a look at that third quarter, though, because there are some factors in the slowdown that are worth thinking about. First, there is the impact of the hurricanes. According to FactSet, insurance earnings estimates dropped from $9.9 billion to $5.1 billion, a hit of $4.8 billion. That alone has a material effect on earnings growth and explains more than three-quarters of the decline in expected growth. Second, expected earnings growth dropped from 5 percent to 2.8 percent (also according to FactSet). But if you take out the storm effects, the drop is only to 4.9 percent. Arguably, earnings are earnings, but big storms don't really tell us a lot about the economy or the larger corporate environment.
So, earnings remain, ex storms, in the range of 5 percent. This is still below recent quarters. Should we be worried? Probably not much, as companies try to manage expectations downward, and actual results are typically much higher.
Historically, about two-thirds of companies beat expectations, by just over 4 percent, for a net beat of just over 3 percent. If that happens this quarter, earnings growth would be around 8 percent, net of the storm effects. This is quite healthy, all things considered.
Brighter skies ahead?
Once we move past the storms, we should also see—and in some areas are already seeing—faster growth. Retail sales bumped today, for example, largely on sales of autos to replace those destroyed in the storms. We can certainly expect building material sales and construction companies to do well also. Make no mistake, the storms are negative overall for the economy. Still, recovery spending will be positive as this quarter's insurance losses turn into next quarter's repair spending. With consumer confidence high and business investment picking up, there are much wider reasons to be optimistic as well.
Keep an eye on the fundamentals
Considering all of this, I don't think we need to be worried about earnings, certainly not in the next quarter or two. Right now, trends remain positive and may get even better. Sectors such as energy continue to recover, and insurance will certainly benefit from higher pricing in the aftermath of the storms, to name just two more.
We always need to watch the fundamentals, of course. For right now? They look pretty good.