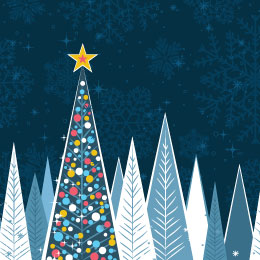 As 2015 draws to a close, the time has come for my traditional Christmas post. Best wishes to you and yours this holiday.
I have always loved Christmas. But as I grew older, I think I lost much of the wonder and the spirit behind the love and giving of the season. Now I have a seven-year-old son who is wrestling with the stress of being good under the eye of the "Elf on the Shelf," eyeing presents under the tree, and baking cookies with his mom. His anticipation and enthusiasm are infectious, and I realize that, thanks to his influence, I am recovering much of what I had lost. This is wonderful, but, as a father, I also find myself reaching deeper into the meaning of the holiday.
Loss and renewal
The event of Christmas itself, the Christ child's birth into the world, is the start of a story that ends in sacrifice. The concept of sacrifice is at the heart of many religions, and the notion of a father sacrificing his son is a fundamental theme in several. I literally cannot fathom making that kind of sacrifice—of giving up my son. At the same time, I understand just how much I would sacrifice for him.
You do not have to be a believer to recognize this love and belief in a future that is worth any sacrifice. Some ideas are so deep in our bones that they affect us whether we believe or not, just because they are part of what makes us human. Maybe they are things that we have to have in order to be human.
Christmas comes at the winter solstice, the death of the year. In this death, we also see the start of rebirth. As I write this, the days are starting to lengthen again, each adding a few more minutes of light, and, although it will be weeks or months until we really notice them growing longer, it is happening nonetheless—even as the air continues to get colder.
Solstice festivals occur in every religion, showing there is something deeper and part of our common humanity that surfaces as the season begins, regardless of the immediate context. Christmas is just the Christian presentation of this age-long celebration.
Making our own hope
As a father, this year, I find the conjunction of death, rebirth, sacrifice, and joy especially meaningful. With both sets of grandparents here, with a small boy desperate for Santa to arrive, with the hope of a new year and a new spring not that far off, I find myself quietly joyful.
At the same time, I remember the parents of those lost this time of year in senseless violence, from Sandy Hook to San Bernardino and far too many other places, and of what those families must feel now when they look at holiday decorations. It hurts to think about. I think of the people who cannot afford to give what they want to give their children for Christmas, and my heart goes out to them. I think of people without family or friends, for whatever reason, and I know the season can make them even more lonely and unhappy than before. There is evil and pain in the world, as there always has been and always will be.
But there is also hope and a promise of a new spring. Santa may not be real, but the promise of love and giving is. I choose to be Santa for my family, to help my son know the hope and joy of life, even as I know he will certainly find the pain at some point. Hope and love will win, if men and women of goodwill choose to make it so.
Merry Christmas to all.