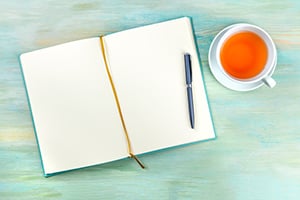 Today's first post is from Giovanna Zaffina, wealth management platform manager, and Anu Gaggar, senior investment research analyst.
For the second year in a row, Commonwealth sponsored the Massachusetts Conference for Women. Since 2005, this annual conference has been providing connection, motivation, inspiration, networking opportunities, and skill-building workshops for thousands of women each year. This year, though the conference was virtual, it was as impactful as ever. As we did last year in a post for this blog, my colleague Anu Gaggar and I would like to share the insights we gained from the conference speakers.
The conference's primary themes were diversity, equity, and inclusion. But the speakers didn't shy away from extending these themes to talk about the current state of our world—including the global pandemic and the racial climate, and their impact on people, especially women.
A Sanctuary for Self-Care
Mallika Chopra kicked off the morning session by raising awareness about the importance of self-care. Be kind to yourself, your family, and your friends, she says. You hear it often, but do you do it? Her advice is to designate a spot in your home that you consider a sanctuary. Each time you visit that spot, clear your mind and breathe. Your sanctuary is a place of meditation and calm.
The 5 Second Rule
Mel Robbins, author of The 5 Second Rule, shared that the top challenge everyone has been facing this year is trying to stay focused and motivated, both personally and professionally. This year has taken a mental toll on all of us. Our brain function has been compromised by ongoing stress, which means we require more mental fuel than ever to get through the day. To cope, we should try to keep our emotions in check and meet difficult moments with resilience and positivity. To help manage your stress, Robbins recommends the following tips:
Don't keep your phone nearby when you go to sleep. When you check your phone first thing in the morning, before even getting out of bed, you have let the world into your room.

Think about your morning routine. How you set up your day determines the way it ends up.

Get intentional with one thing you want to make progress on during the day.
Opportunity for Reinvention
Transformation and life coach Lisa Nichols focuses on asking "How do you show up?" That's because how you show up for yourself and the world around you dictates how you will lead. The key is to think of your time as an opportunity to reinvent, recommit, reenergize, and reengage—the four R's. We all need to study ourselves and then lead boldly. In other words, don't be the thermometer, be the thermostat. Decide whom you want to be and stop self-doubting. Show up, stand up, and speak up. Stand in front of a mirror every day and tell yourself seven new things you are proud of. Tell yourself seven things you forgive yourself for. Then tell yourself you commit to yourself. Give yourself permission to fail because failure is feedback and that feedback is a lesson for your future self.
Unity and Hope
Golden Globe Awards winner Awkwafina (whose birth name is Nora) grew up having two personas—Nora, who cared too much, and Awkwafina, carefree, confident, and a dreamer. Today, she is trying to connect the two personas and combat her insecurities. The book The Subtle Art of Not Giving a F*ck helped her to realize that a person's greatest love will be their greatest source of pain. She also learned that when we define ourselves as the next genius (or a rising star), we set ourselves up for failure. If we define ourselves more broadly (for instance, as an actress), that is helpful.
When asked about being an actress, specifically an Asian actress, Awkwafina spoke of the difference between diversity and representation. She believes diversity is being asked to be part of the scene, while representation means having an active role with lines. Screenwriters need to create roles that are not stereotypical, unless the story is meant to portray the identity of a community or culture. Racial issues and xenophobia are founded on ignorance and stupidity and driven by misplaced hatred. To counter all this, Awkwafina believes we need unity, hope, and, most importantly, empathy—for ourselves and for the people around us.
Intentional Leadership
Doris Kearns Goodwin, historian and Pulitzer Prize–winning author, shared stories from historical leaders and how they led intentionally during times of uncertainty. Presidents Lincoln and Obama wrote letters when they were angry and emotional but never sent them. President Theodore Roosevelt, who was always in motion, was a president for all people—he cut through country divides and was a proponent of a centrist philosophy. President Franklin D. Roosevelt would speak truth to power—and then hope for the future. His wife Eleanor Roosevelt, who was a trailblazer as first lady, interacted with the public on the front lines and reported the truth back to him. She held weekly press conferences and visited military bases. She also set up day care and hot meal services that enabled women to go to work during World War II.
Each of these leaders created fundamental and social change. Still, Goodwin says, "We do not have to become heroes overnight." It's critical at every level of leadership to create diverse teams. Leaders must be accessible and reach out beyond the inner circle of their bubbles. How can we do that? Only by having representation from all people.
The Power of Empathy
Fifteen-time GRAMMY Awards winner Alicia Keys told us we must govern from a place of love. Today, it's hard to hear your own voice above the voices telling you who you are, who you should be, and what you should be doing. We need to show up for each other. We need to ask ourselves who isn't in the room or part of the conversations we're having, and why not. Who isn't represented on a board? Who isn't on my friend list? Who isn't shopping in my store? We need to recognize what is happening for women right now and reach out to help. Following in Eleanor Roosevelt's footsteps, we should come to the aid of women and families—refreshing their opportunities by improving home-care and child-care services.
To create diversity at every level, we need to rebuild and reimagine the way society works. Alicia was raised by a mother who always led her to think about other people. Following her mother's guidance, she advises that we put ourselves in a place of empathy. We should also focus on helping ourselves so we can help others more effectively.
Judgments and Perceptions
Laura Huang, author of Edge: Turning Adversity into Advantage, shared her belief that hard work and grit aren't enough to generate success. Instead, our success in life depends on recognizing subtle signals from others, whose perceptions about us determine the outcomes of our endeavors. For example, through her research, she found that individuals who speak with an accent are not typically seen as being team players. Due to preconceived judgments, others perceive them as lacking the ability to take initiative and engage in out-of-the-box thinking. As a consequence, they're passed over for raises, promotions, and venture funding. If you know this, you'll understand you need to flip others' perceptions and judgments to level the playing field.
So, how can we shape others' perceptions of our strengths and flaws? Huang's book shows us how to do so by using the acronym "EDGE," which she breaks down as follows:
"E" is for "enrich"—how we can enrich others' lives and provide value by doing so.

"D" is for "delight"—how we can crack open the doors of opportunity for enrichment.

"G" is for "guide"—how we can guide, turn, and, ultimately, flip others' perceptions of us.

"E" is for "effort"—which comes last. If we learn to enrich, delight, and guide, our efforts and hard work will pay off later.
Our Takeaways
As we step into 2021, we should all focus on self-reflecting and show up for others. To do so, take a good look at yourself and your surroundings. Search for opportunities to support others and invite more people into your life. Ultimately, we should stand up for human rights and persevere for a bright and better today and tomorrow.