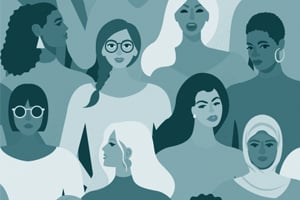 Recently, along with some very dynamic colleagues and friends from Commonwealth Financial Network, I had the privilege of attending the Massachusetts Conference for Women. Held in Boston over a packed two days in December, it was the largest women's conference in the country, boasting more than 13,000 attendees. Here, Giovanna Zaffina and I would like to share our experiences and thoughts.
What an awe-inspiring lineup of speakers, keynote addresses, and breakout sessions the conference had! The energy was palpable. The collective wisdom, experience, and vigor of all those gathered was a true testament to the fact that the future for women is going to look a lot different than the past.
Megan Rapinoe, cocaptain of the U.S. Women's National Soccer Team (the 2019 FIFA Women's World Cup Champions) and the Sports Illustrated 2019 Sportsperson of the Year, emphasized the importance of connecting with other women. "You are more impactful than you think," she said. "Often, it feels difficult, because we feel isolated. But take the expertise and power that other women have for yourself as a way to motivate you in your life."
In his call to action, speaker Wade Davis asked that people refrain from talking about "diversity," remarking that what we should be talking about instead is "representation." As he explained, it's about who's in power at the decision table. When a group, such as women, isn't represented, the group's voices aren't heard. Solidarity partners are what we need. Representation is not only about having women leaders in our community, it's about inviting men to the conversation as solidarity partners.
What would it take for Michelle Obama to write you a letter of recommendation for college? Well, you might have to be Yara Shahidi, one of the conference speakers, who received a recommendation to Harvard University from the former first lady. At an age when most of us are trying to find ourselves, Shahidi is already there. She's an actress, a model, an activist, and, most important, a student. Shahidi pays close attention to what's going on in the world and is dedicated to engaging other young people in important issues.
Another speaker, Tara Westover, never received any formal education until she was old enough to apply to college. The ACT was the first test she ever took, and she went on to earn not only a bachelor's degree from Brigham Young University but a PhD from the University of Cambridge. (One of the reasons for her educational progress, she quipped, was to stop people from asking if she has a high school degree.) With this unique perspective, Westover wrote a New York Times best-selling memoir, Educated. In this book, she shared her thoughts about the role of education in our nation's culture, suggesting that it has become part of our political divide. She said, "To be an educated person is perhaps not to know more than another person, but just to know another person." What a powerful reflection!
Westover wasn't the only speaker rallying for education. Conference attendees also heard from Malala Yousafzai, a 22-year-old Oxford University student and Nobel Laureate who survived an assassination attempt by the Taliban at the age of fifteen when she spoke up for her right to education. Yousafzai was welcomed on stage with a standing ovation. "Education," she said, "is an equalizing force. When you educate future generations, you give them equal opportunities and reduce inequalities. And that is how you fight war and terrorism."
Brené Brown shared a personal story about trying to teach her daughter about leadership. Through this endeavor, she ended up on a seven-year journey to research this very topic. She believes that courage is the heart and future of transformational leaders. Although most people think an individual either has courage or doesn't, she has another perspective. Brown discovered that courage is teachable. In addition, she believes we should welcome vulnerability and be willing to have tough conversations with ourselves and others. (What a refreshing, but scary, thought.) To cultivate courage in yourself and others, you have to be ready to "embrace the suck."
The keynote speakers were indeed a force, but the speakers for the breakout sessions were no less impressive. My coauthor of this blog post, Commonwealth's Giovanna Zaffina, hosted a session titled "Handling Conflicts at Work." The Harvard Business Review's leading expert on conflict, Amy Gallo, led a conversation on dealing with conflict in a way that is both professional and productive. "Conflict," she said, "is underrated as a force for making a positive impact at work." She also noted that of course we need to know how to deal with conflict, and that is what we learned at this session.
Giovanna and I left the conference feeling recharged and connected to the women who are at the forefront of bringing change. We felt a deeper sense of commitment to support and advocate for a more equitable and sustainable future. Giovanna was once asked, after attending a women's conference with 125 attendees, if she thought the same energy in the room would exist if we had more women. She said "yes," and this conference proved that theory. Change is about people and community. I was reminded of a song from the popular musical Hamilton, "The Room Where It Happens." When women come together and share their unique journeys, connect personally and professionally, exchange ideas, and collectively solve problems, a paradigm shift occurs.