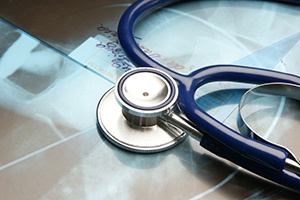 Today, I'd like to take another look at where we are with containing the COVID-19 pandemic. Since last week, there has been real progress on many fronts, although concerns remain.
Signs of progress
Growth rate. Let's start with the daily case growth rate, which has now been below 4 percent per day for three days in a row. Yesterday's growth rate was the lowest since the end of February, and this decline is progress to celebrate. As before, we continue to be about two weeks behind Italy, which suggests the growth rate will continue to decline in the coming weeks.


Source: Data from worldometer.com
New cases. The new cases have also declined, although in a less steady fashion. Case counts have not yet broken below the 25,000 per day level. This level is the next milestone, as a larger base case level has outweighed the slower growth rate. Nonetheless, the downward trend seems fairly consistent over the past month, and it suggests that we should see the number of new cases per month continue to inch down.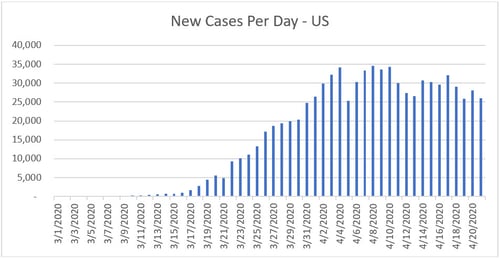 Source: Data from worldometer.com
Concerns remain
Easing of social distancing restrictions. The very real progress in controlling the virus has led to talk of easing social distancing restrictions and opening up the economy again—and several states have announced plans to do just that. One concern is that this shift could lead to faster spread of the virus, and this effect is something we will have to watch for. Even if this spread happens, there will be a two- to three-week lag before any new infections show up in the data. So, a continued decline in the spread of the virus over the next couple of weeks will not be an argument for (or against) any such opening.
Lack of widespread testing. Another concern is that when states do open up, more comprehensive testing will be needed to track and isolate infected and exposed people. Opening up essentially means switching from isolating everyone to isolating only those who are sick or at risk. To do so, we need to know who those individuals are. The only way to make this identification is through widespread testing. Testing, however, has stalled at around 150,000 tests per day, as shown in the following chart.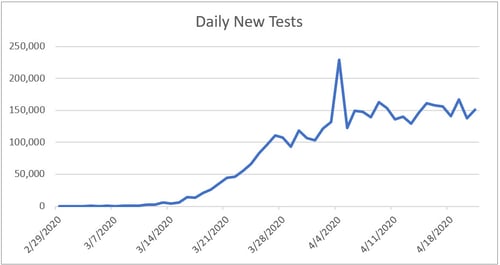 Source: Data from the COVID Tracking Project
We are not yet certain about how many tests per day we will need to run, but initial estimates were in the 1 million per day range. That number now looks too low. In any event, the current test run rate is way too low to support any kind of meaningful surveillance operation to support reopening economies.
High positive test results. Another way to look at where we are now is to examine the percentage of tests that are coming back positive. Ideally, if everyone were being tested, this number should be quite low. In fact, between 15 percent and 20 percent of all tests are coming back positive, which suggests two things. First, the tests are primarily being given to people who are likely sick with the virus. Second, given the limited availability, most people who might have the virus are not being tested. The level of positive results should likely be 5 percent or below. Until we get down to that level, we will not have enough data to reopen economies without risking another wave of the virus.


Source: Data from the COVID Tracking Project
We're not there yet
None of this is meant to deny the real and substantial progress that has been made. We know what to do, we are doing it, and it is working. Instead, it is to say that we are not done yet and that there is still substantial progress that needs to be made—especially in testing.
It is also to say that the current gains are not locked in stone. While the daily case growth rate is down to less than 4 percent, that still means that—absent further reductions—the total number of cases will double in the next three weeks. Premature policy changes or a failure of people to observe prudent behavior could unleash the virus again.
Right now, however, we should celebrate the progress. We are getting there. Stay safe, stay sane, and stay healthy.