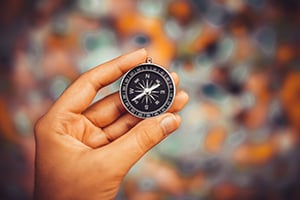 This week, I am at the first Commonwealth conference (or, indeed, any conference) since March 2020. We are being very cautious—events are outdoors, and everyone was tested on arrival. But it is the first real large face-to-face event since then.
Different, in a Good Way
Two thoughts. It's weird to get together with everyone, but it's great to see everyone. While I know the pandemic is still out there, the combination of testing and outdoor events seems to be a good mix. It seems like even with the Delta variant, we can still cautiously think about going back to something like normal.
With everything being different this year, so was my part at the conference. Rather than doing a standard economic and market update, I took questions from the attendees ahead of time and structured the talk around those. Also, since we were outside, there were no slides, as getting a visible screen in sunlight was really hard. It went well, and I will be doing something similar at other conferences going forward. It was different, in a good way.
But the biggest difference for me was that instead of talking about what I thought was important, I got to see ahead of time what the audience felt was important. The most interesting thing, looking at the questions, was where the worries were. A good half of the questions dealt with economic policy: the deficit, the debt, and the infrastructure packages. Taxes were also a hot topic, as were inflation, interest rates, and Fed policy. Most of the rest of the questions were about how we can invest in the changing environment. They were good questions from a financial audience and very relevant. But they were also pretty different from the focus of the past year.
Concerns Moving Back to Normal
Surprisingly, at least to me, there was only one question on COVID. It shows that despite Delta, for this audience, worries have moved past the pandemic. That might not last, of course, but for the moment the concerns have moved back to something more normal, which is to say politics and economics. Attendees clearly are looking forward to dealing with the aftermath of the pandemic, rather than the pandemic itself. This is a good sign for how well the economy will weather the current wave.
Between the fact that the conference itself is being held at all and the questions I got, I remain reasonably optimistic that we will weather the current viral wave with the recovery intact. As I said in my talk, the real measures to watch will be job growth and consumer confidence. So far, despite some worrying signs, both are largely holding up. If we bring the virus back under control—and we should—they should be able to stay healthy.
And that is clearly what my friends and colleagues here expect. By moving their concerns back to the normal ones of economics and politics, they are clearly stating that the pandemic is moving behind us. As a group of financial experts who deal with their clients on a daily basis, they are a good indicator of what a significant part of the population is thinking. And their shift back to normal concerns is encouraging about how we move forward. Not only has this been a great conference, with great friends, but it is also one more data point to suggest we continue to move back to normal.