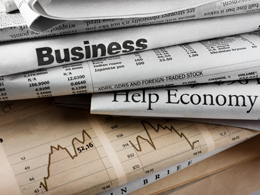 After a strong start, 2017 slowed down considerably in terms of economic data. Last week's news, which centered on the consumer, largely disappointed. Although it's too early to get very concerned, the numbers suggest that higher confidence levels aren't yet translating into actual growth.
A look at last week's data
Retail sales fall short. First, the good news: headline retail sales numbers, which include autos, rose by 0.6 percent in December—an increase from 0.1-percent growth in November but below expectations of 0.7-percent growth. Less encouraging: core sales (which exclude autos and gasoline) were flat for the month, down from upwardly revised 0.3-percent growth the previous month and well below expectations of 0.4-percent growth.
Although strong auto sales are a positive sign, the weakness in other areas is troubling. That said, fourth-quarter sales growth as a whole was reasonably healthy, so the concern is more about what this might indicate for the future rather than for the present.
Consumer confidence also disappoints. Less worrying, consumer confidence, as measured by the University of Michigan survey, decreased slightly from 98.2 to 98.1, against expectations of an increase to 98.5. Still, this small decline leaves the indicator at close to a 13-year high, suggesting that consumers remain confident (even if they're not getting even more so) and that retail sales are likely to improve into this year.
The week ahead
This week we'll get a look at inflation, industrial production, and the housing industry.
Data on consumer prices will be released on Wednesday, with the headline index expected to show an increase of 0.3 percent for December and 2.1 percent year-on-year, up from 0.2 percent and 1.7 percent, respectively. The change in the annual figure would be due to base effects, largely from the price of energy. The core price index, which excludes food and energy, is expected to remain constant at 0.2 percent for the month and 2.1 percent for the year. The expected convergence of the two annual figures suggests that the distorting effects of oil prices have started to age out of the calculations, and the two should be more comparable going forward.
Industrial production, also released on Wednesday, is expected to improve dramatically, from a decline of 0.4 percent last month to a gain of 0.7 percent, driven largely by a weather-related increase in utility production. This means that November was not as bad as it looked but also that December will not be quite as good. On a narrower and more representative basis, however, manufacturing output is expected to swing from a decline of 0.1 percent to a gain of 0.5 percent, on improvements in energy production and the normalization of the dollar's value. If these numbers come in as expected, it will be a very positive signal for the economy.
Finally, the National Association of Home Builders survey is expected to drop back slightly from 70, an 11-year high, to a still very robust 69. Along these lines, housing starts are expected to rise from 1.09 million to 1.195 million, a strong gain.
Have a great week!