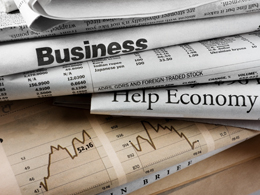 In a departure from recent slowing, last week's data indicated that the economy may be making a comeback.
Both consumer and business confidence remained at strong levels, overall spending continued to grow, and the jobs report, in particular, showed that economic expansion continues. With sentiment strong and actual activity appearing to follow suit, the economy looks positioned to accelerate again in 2017.
A look at last week's data
It was a busy week for economic news, beginning with a mixed report on personal income and spending:
Personal income growth came in at 0.3 percent, up from an upwardly revised 0.1-percent gain in November but below expectations of 0.4-percent growth.
Personal spending growth increased to 0.5 percent from 0.2 percent, in line with expectations.
Slower income growth is consistent with the changing mix of job growth, as noted in relation to the jobs report. Faster spending growth appears primarily due to higher utility spending from cold weather rather than stronger consumer activity. Overall, this data indicates that growth continues, but the details are somewhat weaker than the headline figures would suggest.
The Conference Board Consumer Confidence Survey gave us another look at whether stronger consumer activity may be pending, and the news was somewhat mixed. With a drop from a 16-year high of 113.7 in December to 111.8, the survey came in below expectations. But current confidence actually improved, which bodes well. Despite the drop, confidence remains at the second-highest level since July 2007, which is still positive for future growth.
Business confidence showed better results:
The ISM Manufacturing Index did even better than expected, up from 54.5 to 56.0, moving further into expansionary territory with its fifth gain in a row and hitting the highest level since November 2014.
The ISM Non-Manufacturing Index pulled back slightly, from 56.6 to 56.5, but remains close to a 15-month high and well in expansion mode.
With both consumer and business confidence remaining high, the prospects for faster growth into 2017 remain solid.
Finally, we got the jobs report for January. As I discussed on Friday:
Job growth did much better than expected, up from 156,000 in December to 227,000, but downward revisions to previous months reduced the net gain to 188,000, which was closer to expectations.
The unemployment and underemployment rates ticked up, as more people moved into the workforce.
Wage growth disappointed, increasing by 0.1 percent (down from 0.4 percent the previous month)—again, probably due to more people entering the labor force.
Based on this data, the labor market continues to grow at a strong pace; however, there are signs we are moving into the later part of the cycle, and future growth may be constrained.
The week ahead
This week will be light on data. On Tuesday, the international trade report will be released. The trade deficit is expected to remain constant at $45.2 billion, now that the distortion in the second half of last year has rolled out of the data.
On Friday, we'll see the University of Michigan Consumer Sentiment Index, which is expected to show a small decline but remain at healthy levels.
Have a great week!