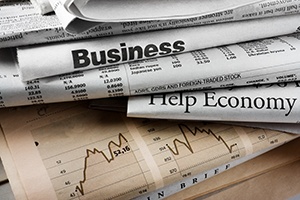 Today's post is from Sam Millette, a fixed income analyst on Commonwealth's Investment Management and Research team.
There were four major data releases last week, and all were generally positive. Given the slightly disappointing economic news reported in our last Monday update, this rebound was welcomed and indicates that faster growth may still be in the cards.
Last week's news
The week began with the release of the Conference Board's survey of consumer confidence. With the index rising from 120 to 122.9, this measure continues to remain extremely resilient. The index now stands at its second-highest level since 2001, and it shows that consumers are still optimistic about the ongoing market rally.
On Thursday, personal income and spending data was released. Both had strong results, with income rising by more than expected and personal spending barely missing heightened expectations. While the slight miss in spending was disappointing, the current levels of income and consumption growth are strong and will help boost growth in the second half if they continue.
On Friday, August's employment report was released. These figures were the most disappointing of the week: 156,000 new jobs were added against expectations of 180,000. The underlying data did not help matters, as wage growth disappointed slightly and average hours worked dropped. As discussed in the recent employment boom post, however, this slowdown may not be as concerning as the headline figures appear.
Also on Friday, the Institute for Supply Management (ISM) Manufacturing index increased to 58.8, handily beating expectations for a smaller increase to 56.5. This is the highest reading since April 2011, indicating that manufacturers are optimistic about their prospects going forward.
What to look forward to
This week will be lighter on the economic news front. We expect only two major releases.
First, durable goods orders data will be released on Tuesday. After a sharp dive in the headline measure in August due to a drop in aircraft orders, this proxy for business confidence is expected to rebound. The core figure strips out transportation equipment, and it is expected to grow modestly as well.
On Wednesday, the ISM will release its Nonmanufacturing index. This measure of confidence for the service side of the economy is also expected to increase. Given the strength in manufacturing confidence, any increase in this measure would be considered validation of today's continuing economic strength.
Have a great week!