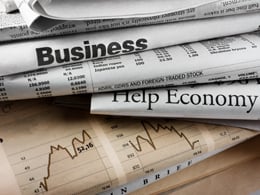 Data last week was right in the middle of the fairway, to use a late-summer metaphor. We saw a weak print, a strong print, and a medium print, all of which, on balance, added up to a pretty good week for economic news, overall.
Last week's data
The weak print: The ISM Manufacturing number came in at a two-year low of 51.1, down from 52.7 in the prior month and below expectations of 52.5. In fact, it was at the lower end of economists' estimates. Clearly, softening demand around the world and the ongoing strength of the U.S. dollar have continued to hit this sector of the economy. Worth noting, though, is that the number remains at a level (above 50) that signifies growth despite all the headwinds.
The strong print: Although the ISM Nonmanufacturing survey dropped from 60.3 to 59.0, it was the second-highest reading in the past 10 years (beaten only by the previous month's number), and continued to signal strong growth. This survey covers 88 percent of the economy, while the manufacturing survey covers just 12 percent, and therefore more than makes up for the weakness there. Overall, this split also reflects the strong performance of the U.S. economy compared with the rest of the world.
The medium print: The medium data point was last Friday's jobs report. Although an additional 173,000 jobs were created, this was below expectations for 217,000 and also down from the prior month's initial estimate of 215,000. Making up for this, though, were upward revisions of 44,000 to the prior two months' numbers, which more than compensated for the shortfall in August.
Both the unemployment and underemployment rates declined, which is a positive sign, and hours worked remained very strong. Even annual wage growth ticked up slightly, from 2.1 percent to 2.2 percent, on reasonably strong monthly wage growth of 0.3 percent.
Bonus print: One additional point worth mentioning is vehicle sales, which continued very strong at 17.72 million; well above the prior month and the highest estimates from economists, this also marked the best number since July 2005. Sales of vehicles typically signal an improving economy, as they are long-lived assets with long-term financing, and consumers typically have to be confident about the future to ramp up purchases.
What to expect this week
This week's data schedule is light:
Today:

The NFIB Small Business Optimism survey came in this morning at 95.9, up from 95.4 although slightly below expectations of 96.0. Still, it signals continued improvement.

Wednesday:

The JOLTS US job openings report will show whether job openings have continued to increase from already strong levels.

Friday: The University of Michigan Consumer Sentiment survey will show how much consumers have been affected by the recent turmoil in the financial markets.