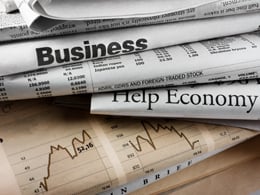 Given everything that happened yesterday, I skipped my regular Monday Update to discuss the turmoil in the markets. Today, let's return to the economic stats, as they shed more light on my theme from yesterday—that U.S. economic fundamentals remain solid.
A Look at Last Week's Data
Once more, the economic data released last week shows that we continue to make slow but steady progress. From a fundamental point of view, the economy remains in good shape.
Business and manufacturing. The nasty surprise at the start of last week was a very weak Empire State Manufacturing Survey. These numbers tend to be volatile, though, so I was waiting to see how the Philadelphia Fed's business survey came in. It ended up posting a strong result of 8.3 for August, up from 5.7 the previous month and well above expectations of 6.5.
In addition, although the Markit manufacturing survey dropped slightly, from 53.8 to 52.9, it remained in growth territory, nowhere near the decline of the Empire State survey. Overall, conditions continue to indicate growth, and the poor Empire State result appears to be an outlier.
Housing. We also saw continued growth in the housing market:
Housing starts increased again in July, to 1,206,000, above expectations of 1,180,000. The previous month was also revised upward, from 1,174,000 to 1,204,000.
Existing home sales rose by 2 percent from 5.43 million to 5.59 million, well above expectations, and the prior month was also revised upward.
Mortgage applications rose 3.6 percent as well, up from a 0.1-percent increase the prior month.
Inflation. Here the news was less encouraging, with the headline inflation number up only 0.1 percent month-to-month and 0.2 percent year-on-year. This is due largely to declines in energy prices over the past year, with the core inflation rate up 1.8 percent over that time period, but the month-on-month increase in core inflation was also only 0.1 percent—somewhat troubling, although not an immediate problem.
Federal Reserve. The Fed's latest meeting minutes provided little new information. Though somewhat more optimistic about growth and employment, the minutes expressed concerns about low inflation, which would not have been eased by the most recent numbers, and provided little guidance as to the likelihood of a rate hike in September.
Oil prices. Oil prices dropped further on strong U.S. inventory data and stable rig counts. As predicted last week, the continued strength of both production and inventory spooked markets, driving prices below $40 per barrel for the first time in years. Although this is further unsettling the energy industry, it continues to help consumers who are spending less for gas, as well as lowering costs for companies outside the energy industry.
What to Watch This Week
The top story this week, of course, is market turbulence. The economic impact of recent volatility should not be significant unless it lasts much longer or gets worse, in which case it may damage consumer and business confidence.
Monday: Data on new home sales was released today, with an increase of 5.4 percent month-on-month, slightly below expectations. This was up from a decline of 6.8 percent in the previous month, which was revised downward to −7.7 percent. In terms of the number of sales, July was up to 507,000, slightly below expectations of 510,000, from 482,000 in the previous month, which was revised down to 481,000. House prices also rose between 4.5 and 5 percent according to the S&P/Case-Shiller index.
The Conference Board's Consumer Confidence Index was also released, with a substantial increase from 90.9 to 101.5, well above expectations and more than offsetting last month's fall. The rise was broad based, with improvements in the present conditions index and in the number of people reporting that jobs were hard to get.
Wednesday: Durable goods orders are expected to decline moderately.
Thursday: A revised estimate of second-quarter economic growth is due. It's expected that the previous estimate will be revised up substantially from 2.3 percent, possibly to above 3 percent, which would show that the economy is even stronger than currently thought.
Friday: Analysts expect that personal income and spending data will show continued growth.
Overall, despite turbulence and trouble elsewhere in the world, the U.S. economy continues to chug along. With continued strong business expectations and consumer confidence, the foundations remain solid.