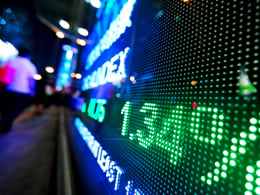 Thursday was rough for financial markets, especially here in the U.S., and it looks like the damage is continuing elsewhere in the world today. As I write this, Asian and European markets are down, with China getting hit particularly hard, and U.S. markets are off slightly.
Reasons to worry, especially out of China
Yesterday's pullback brought the S&P 500 to its lowest level since January, taking returns for the year so far into negative territory. More significant, the decline convincingly cracked the 200-day moving average, often a sign of further weakness. Damage has been done on a technical level, and confidence appears to have dropped.
But there are bigger reasons to worry outside the U.S. China's economy is showing continued weakness, with a key manufacturing survey coming in at the lowest level in more than six years. Currency strains are showing up in emerging markets as the effects of the yuan devaluation work through the system.
Indeed, China is at the core of the problem. As the primary contributor to global growth during the latest recovery, when China sneezes, the rest of the world catches cold. Given slowing growth, a stock market correction, and a shock currency devaluation, it's no wonder investors are pulling back from risk around the world, and many countries are getting caught in the downdraft.
Still, the U.S. should continue to fare well
Certainly, there are valid reasons to be worried, and many countries ought to be. But there's also plenty of evidence suggesting that U.S. markets should continue to do well. For example:
Overall structure of the economy. The U.S. has relatively little exposure to foreign trade, and our exports to China are much less than our imports. This has been a drag on growth so far, but it also means we have less exposure to a slowdown there.
Strong currency. Although it has hurt U.S. corporate profits this year, the strength of the dollar reflects the relative strength of the U.S. economy. In fact, it has made imports cheaper, boosting the ability of both companies and average consumers to buy things.
Limited financial exposure. Combined with the strong dollar, the reforms to the financial system enacted since the crisis mean that we're less exposed to financial contagion than pretty much any other country in the world.
The U.S. does face some risk, of course, but much less than what other countries are looking at. A quick review of recent history bears that out.
In the Asian financial crisis, U.S. markets saw a pullback but then rallied and went on to new highs. As recently as October of last year, U.S. markets recovered from a similar drop. (I was doing a TV interview that day, and the worry was palpable but turned out to be misguided.) If we look back a full year, the stock market still shows a gain of more than 4 percent. To put yesterday's drop in context, the market is down less than 5 percent from the peak.
This used to be called normal volatility. The decline so far is minor and normal by historical standards.
The real takeaway from yesterday's drop
I don't want to minimize the situation, but one bad day doesn't make a bear market.
We may well see further declines, but the fundamentals, especially here in the U.S., remain very strong. Employment and income growth are solid, housing has normalized, and Federal Reserve policy remains quite supportive of economic growth. Weakness elsewhere in the world can also act as a support for the U.S. economy.
For investors, yesterday's drop underscores the need to plan for a significant and sustained decline in the market. It could be now—more likely it will be later—but it will happen at some point. Yesterday's dip should prompt you to review your plans for trouble and ensure that they still meet your needs.