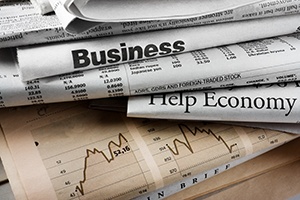 Brad here. Today's post is from Sam Millette, a fixed income analyst on our Investment Management and Research team. Over to you, Sam.
Last week saw the release of a number of important economic data points, as regularly scheduled reports were joined by data that had been delayed by the government shutdown. It was a bit of a mixed bag, with a smattering of both good and bad news. The week ahead will be relatively quiet, with only two major releases scheduled.
Last week's news
On Wednesday, the consumer price reports were released. The headline index was unchanged in January, which dropped consumer inflation to 1.6 percent on a year-over-year basis. This result is down from the 1.9-percent growth rate we saw in December. Much of this decline in consumer inflation is due to lower gas prices. The core figure, which strips out the impact of food and energy, increased slightly to 2.2 percent year-over-year.
On Thursday, the producer price reports showed a similar decline for producer inflation, with a drop in January taking the annual inflation rate from 2.5 percent to 2 percent. This was a larger drop than expected, and once again falling energy prices played a major part in the decline. Overall, inflation appears to be moderating, which means that the Fed can afford to wait before any potential future rate hikes.
December's retail sales data was released on Thursday after some delay. Sales declined by 1.2 percent in December on a month-to-month basis. Brad wrote about the dramatic fall in retail sales and the potential impact on the economy in more detail last week. Suffice it to say, this was a terrible report.
On Friday, we saw the release of January's industrial production report, which showed a drop of 0.6 percent for the month. This result was due in large part to a decline in auto production; however, the weakness was spread across other sectors as well. This decline during an ongoing trade war and government shutdown is not necessarily surprising, and there may be some hope in the future for increased production if a trade deal is struck with China.
Finally, on a more positive note, the University of Michigan consumer confidence index rebounded by more than expected, shooting from 91.2 in January to 95.5 in February. January's drop in confidence was attributed to the government shutdown. So, it is quite encouraging to see confidence recovering swiftly now that the government is back open for business.
The week ahead
On Wednesday, the minutes from the Fed's January meeting will be released. The Fed decided to keep rates unchanged in January, and the released statement removed language that spoke of future gradual rate hikes. This was a major change in the Fed's policy, so economists are eager to see the discussions from the meeting.
On Thursday, December's delayed durable goods orders are set to be released. Economists expect 1.7-percent growth in orders, driven by a large increase in aircraft orders for Boeing in December. The core index, which strips out volatile transportation orders, is expected to increase by a healthy 0.3 percent.
Thanks for reading and have a great week!