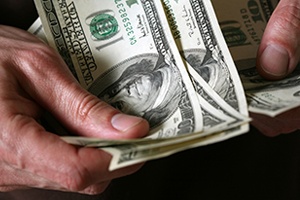 This will be a short post, as it has been a long 48 hours. I was on a red-eye flight last night, returning from the Commonwealth Retirement Symposium in Scottsdale. Before that, I was at the Commonwealth Chairman's Retreat in Palm Beach. So, my brain is not working at peak efficiency!
Retail sales report is a heartbreaker
One thing I do want to comment on, however, is the terrible retail sales report this morning. The headline index was down 1.2 percent. Plus, last month's number was revised down from 0.2-percent to 0.1-percent growth. Today's result was well below the expected gain of 0.1 percent. When you look further into the details, the sales ex-autos was down 1.8 percent, down from flat, and the sales ex-autos and gas was down 1.4 percent from growth of 0.5 percent. This is a big swing on a monthly basis, and the weakness is broad based among subcategories.
Will the heartache continue?
This disappointing report was likely due, at least in part, to the uncertainty created by both the stock market pullback and the government shutdown. But it is also consistent with the recent pullback in consumer confidence. With both retail sales and consumer confidence, the question will be whether the weakness persists. Whether it does or not, we do know that growth weakened significantly at the end of last year, which should pull GDP down for the fourth quarter.
Although this decline will certainly be a drag, it may well pass. With continued strong job growth and wage growth, confidence may well rebound—and spending with it. In that sense, the weak retail sales report is just another version of the confidence issue we are already watching.
Same old love story
For the moment, this is one more sign of slowing that needs watching. With what we already know, however, it doesn't actually change the narrative all that much. When confidence declines, so should spending growth. When confidence recovers, so should spending. Now we have to wait and see what happens, albeit a bit more nervously.
Happy Valentine's Day!