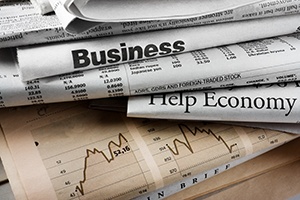 Last week's economic reports showed some moderation of growth, with substantial divergence between the headline figures and the underlying details in several cases. That said, the general levels of activity remain expansionary. Overall, it was a pretty positive week, but not one that significantly changes expectations going forward.
A look at last week's data
Reports last week centered on housing and business.
Good news for housing. The National Association of Home Builders survey for April registered a drop in sentiment, from 71 the previous month (a 12-year high) to 68, which was below expectations of 70. Despite the decline, the survey remains at an extremely high level, and longer-term trends continue to rise, reaching their highest levels since 2005.
Housing starts also declined in March, from 1,288,000 the previous month to 1,215,000, below the expected 1,250,000. A four-month low, the number was a disappointment, but it remains within the margin of error of previous months. And again, the longer-term averages continue to improve. Building permits also rebounded, suggesting that, overall, housing remains healthy.
Finally, the existing home sales number signaled continued demand for housing, with sales rising from 5.48 million to 5.71 million, well above expectations of 5.60 million. Sales increased despite dwindling supply, which remains near a 34-year low. Clearly, demand for homes is strong, which is a positive indicator for the consumer sector.
Industrial production comes in strong. U.S. industrial production posted 0.5-percent growth in March, up from 0.1 percent the previous month and matching expectations. The underlying news was not quite as good, however, as the increase was largely due to a rebound in utility production on more normal weather.
On the manufacturing side, which is a better economic indicator, output declined by 0.4 percent, down for the first time in seven months and well below expectations. The previous two months were also revised down, suggesting at least a pause in the manufacturing recovery. Following strong monthly performances earlier this year, the report is not immediately concerning, but manufacturing output will bear watching.
The week ahead
Although we may see slowing growth in a few key figures released this week, the economic picture remains positive.
Housing demand has been strong—in large part because prices are affordable—and that should continue. New home sales data from March will be reported on Tuesday. Expectations are for 588,000 sales—a slight decrease from February. Good weather and a lack of existing home supply could allow this number to come in even higher.
Consumers are feeling good about things as well. Although the Conference Board's Consumer Confidence Survey is expected to drop slightly—from 125.6 to 123.7—it would still be near a 16-year high. Good labor market conditions, low gas prices, and recent stock market performance have supported consumers' confidence in the current environment.
On Thursday, the durable goods orders report will give us a look at business demand. Headline orders are expected to drop from 1.8 percent to 1.5 percent due to continued growth in commercial aircraft orders. Core orders, which exclude transportation, are expected to come in at 0.5 percent for the second month in a row. Both of these numbers would indicate a sizable gain in business investment in the first quarter—a positive sign going forward.
Perhaps the most anticipated news of the week is the first estimate of economic growth for the first quarter, released on Friday. Growth is expected to drop from 2.1 percent in the fourth quarter of 2016 to 1.2 percent for the most recent quarter. A slowdown in car sales and weak demand for utilities during the warm winter are reasons for the expected contraction. The good news is that these factors are likely transitory, so the decline is not necessarily a signal of slowing growth for 2017.
Have a great week!