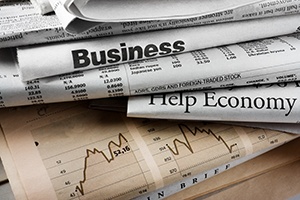 Last week was a mixed bag for economic data reports. Disappointing results for consumer confidence and spending offset strong new home sales and durable goods orders. This week will be busy, with September's reports on business confidence and new jobs set to be released. We'll also see August's international trade report.
Last week's news
The week began with Tuesday's release of the Conference Board Consumer Confidence Index, which came in under expectations. Consumer confidence fell from 135.1 in August to 125.1 in September. Economists had forecasted a much milder decline to 133 for the month. Both future expectations and current-situation subindices declined. Fewer consumers reported plans to make large purchases, such as a house or a car. While confidence still sits at high levels, this decline is discouraging, especially given the strong equity market performance this month. Brad covered this data release and what it could mean for the economy in a blog post earlier this week.
On Wednesday, August's new home sales report was released. New home sales increased by 7.1 percent in August, following a 12.8 percent decline in July. This increase was higher than the 3.8 percent growth forecasted. This better-than-expected result lines up with the increase in home builder optimism we saw in August. This positive result, along with the strong existing home sales during the month, indicates that the housing market had a very strong August, despite lowered consumer confidence levels.
On Friday, August's personal income and personal spending reports were released. Income grew by 0.4 percent, as expected. Personal spending increased by only 0.1 percent during the month, however, despite forecasts for a 0.3 percent rise. This result is disappointing, as strong consumer spending has been the driver of overall economic growth this year. But there is no cause for concern yet, as this report marks the sixth straight month of spending growth. Still, going forward, this area of the economy will certainly bear watching.
Also on Friday, August's durable goods orders report was released. Durable goods orders increased by 0.2 percent during the month, which was much better than the 1.2 percent decline expected by economists. This outperformance was due to aircraft orders, which can be volatile on a month-to-month basis. The core figure, which strips out the effect of transportation orders, increased by 0.5 percent during the month, against expectations for a 0.2 percent increase. Overall, business investment remains low given the uncertainty caused by the ongoing trade war.
What to look forward to
On Tuesday, the ISM Manufacturing index is set to be released. Manufacturer confidence is expected to increase from 49.1 in August to 50.5 for September. This is a diffusion index, where values below 50 indicate contraction. August marked the first time this index fell below 50 since 2016. So, a quick rebound would help calm economist fears of a potential manufacturing recession in the face of lowered global trade.
Thursday will see the release of the ISM Nonmanufacturing index. Economists expect service sector confidence to decline from 56.4 in August to 55 in September. Confidence rose in July, but this index is still well below recent highs seen in 2018. Even so, a result in the mid-50s would indicate that fears over the trade war do not weigh as heavily on the service sector as on the manufacturing sector. The service sector makes up the lion's share of economic activity.
Friday will see the release of the September employment report. Expectations are for the creation of 140,000 new jobs, following 130,000 new jobs in August. Even with this expected growth, the number of new jobs would remain well below levels seen in 2018. The underlying data, however, is expected to be a bit more positive. Unemployment is expected to remain steady at 3.7 percent, while earnings growth is set to come in at 3.2 percent on a year-over-year basis. Overall, the jobs market remains healthy, but the slowdown in headline job creation is cause for concern, given the downward trend we've seen this year.
Finally, also on Friday, August's international trade report will be released. Economists expect the trade deficit to widen from $54 billion in July to $54.8 billion in August. The trade war with China is expected to negatively affect exports during the month, despite a slight uptick in food exports driven by China's goodwill soybean purchases.
That's it for this week—thanks for reading!