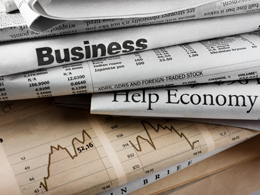 Last week's economic reports showed a range of data, mainly focused on business. The news was surprisingly positive across the board, with business sentiment improving substantially while job growth continued at a more or less steady pace. Overall, based on last week's data, the economy continues to move forward, with this month's good news largely reversing the bad news from last month.
A look at last week's data
The ISM Manufacturing Index, released on Monday, moved back to positive territory—to 51.5 from 49.4—substantially beating expectations and suggesting that last month's drop may have been a blip. The first increase in three months, the improvement was broad based, with nearly all index components up and new orders growth leading the charge. By returning to expansion, this survey should relieve fears that manufacturing is headed toward a recession.
Confirming this positive signal, on Wednesday, the ISM Non-Manufacturing Index also beat expectations, bouncing back from 51.4 to 57.1, the highest level in nearly a year. Growing industries increased from four to ten, while new orders increased by the most since 2009. This was a major positive surprise. Accounting for more than two-thirds of the economy, the service sector is the most important component of future growth.
The international trade balance also beat expectations, although by less, with the deficit dropping to $40.7 billion against an expected $41.5 billion from the previous month's strong $39.5 billion. Despite this, trade is now likely to add to growth in the third quarter, with exports growing significantly faster than imports. Export orders were up significantly in the ISM Manufacturing survey, which suggests this trend might continue.
Finally, the employment report on Friday improved modestly, with job creation increasing from 151,000 in August to 156,000 in September. Although this was below expectations of 175,000, the details were better. Private employment rose, wage growth increased from 0.1 percent to 0.2 percent, and the average workweek moved back to 34.4 hours, reversing much of the weakness of August. With low jobless claims and record-high job openings, the labor market continues to grow, although more slowly than expected.
The week ahead
This week's data will be largely about U.S. consumers. The retail sales report will be released on Friday and is expected to show that the consumer is back. Headline sales, which include autos, are expected to swing from a loss of 0.3 percent to an increase of 0.6 percent. Meanwhile, core retail sales, excluding autos, are expected to increase from a decline of 0.1 percent to a gain of 0.4 percent. With auto sales up and rising gas prices accounting for much of the gain, however, the effect on economic growth should not be as strong as the numbers would suggest.
Also on Friday, the University of Michigan consumer confidence survey is expected to increase slightly, from 91.2 to 92, on continued employment growth and stable stock prices. If that plays out, it would ratify the stronger gain in the Conference Board's survey.
Finally, minutes from the last meeting of the Federal Open Market Committee will be released on Wednesday. After the relatively high level of dissent revealed in the voting record, markets will focus on just how divided the Fed's discussion was and what that might mean for future rate increases. Also of interest will be what, if anything, the discussion included about the election. The minutes are unlikely to change expectations for interest rate increases, but as context for the next meeting, this information will be valuable.
Have a great week!